"I think it'll be much more campy than scary," Robinson grants, adding that for those who would prefer a thrill for the palette, the Guesthouse restaurant won't disappoint.
"We have a new chef who started with us back in April, trained in West Virginia," he says. "We've definitely tried to focus on local, fresh items – a menu that someone with a D.C. palette would really appreciate. Also some Southern favorites."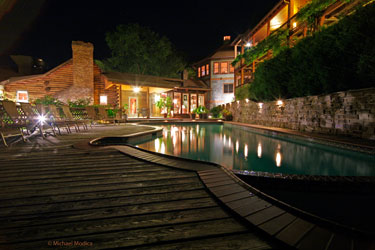 The Guesthouse Lost River
Another gay-owned country compound is the Lost River Grill, Motel & Bed and Breakfast, where Larry Curtis serves as general manager. And his Halloween party will likely give the murder-mystery weekend a run for its money.
"We have a very big Halloween party," Curtis promises, remembering the grill's bar filled with about 100 revelers at the 2011 spooky do. "Everyone's in costume."
Still, the allure of Lost River in autumn is more the great outdoors than late-night horrors. That's what brought Curtis to Hardy County, W.V., though he and his partner live across the county from Lost River, on the other side of the mountains – even if he reckons "this [Lost River] side is more gay."
"It's a beautiful place to be," Curtis says of Hardy County in fall. "It's spectacular. The weather is beautiful. Any road you take, you'll find beauty. People are very friendly. For the most part, everyone has a 'live and let live' attitude."
When it comes to any road, however, Curtis offers a warning. It's nothing along the lines of advice that might have saved those doomed souls in Wrong Turn from the West Virginian inbred, mutated, cannibalistic mountain men. It's really just some sound advice.
"Don't use GPS to get here," says Curtis. "GPS may take you over unpaved mountain roads. And don't come expecting to be entertained all the time. Lost River is a place to come with someone you like, because you're going to be spending a lot of time together."