What do you call a farce that's not particularly funny? The real Mackay.
Of course, what you want is the real McCoy – something from Noel Coward, say, or Tom Stoppard. Or Shakespeare's The Comedy of Errors. Something, that is, that offers a truly fanciful tale, played to the hilt for physical comedy laughs, but winning you over especially with its exceedingly clever way with words.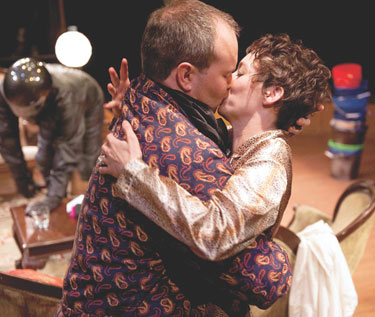 Taking Steps
(Photo by Andrew Propp)
Alan Ayckbourn's Taking Steps is not that kind of play. Its idea of clever wordplay is mostly to have its pompous lead character rattle off pronouncements that are just slightly off – "the real Mackay" for "the real McCoy," for example – as well as to feature two other characters who can't explain themselves or tell a story to save their lives. The supporting characters of Tristram (the wonderfully expressive Matthew McGee) and Kitty (the amusing Megan Graves) spit out words that don't even fit together to cohere a proper sentence most of the time, much less impart anything of consequence.
Constellation Theatre Company has opened its sixth season with Taking Steps, and it's pretty clear why: The show is a decent vehicle to display Constellation's core strengths, from its unwavering ability to assemble strong ensemble casts to its razzle-dazzle way with staging. The company's artistic director Allison Arkell Stockman worked with A.J. Guban to design three levels of a Victorian house, all laid out on one level – and in the round – of the intimate Source Theatre. With no actual dividers, the rooms overlap, as does the action – and the actors move about the three levels by traversing imaginary stairs. It all adds up to some visually clever antics. Constellation's stellar costume designer Kendra Rai gets to add still more eye appeal, especially in her over-the-top, colorful attire for Tia Shearer, who plays a former dancer as if her character were a cross between Liza Minnelli and one of Mike Myers's caricatures (think Dieter from Sprockets).
Taking Steps


To Oct. 7
Source Theatre
1835 14th St. NW
$25 to $45
800-494-8497
constellationtheatre.org
The story centers on a wealthy British magnate, Roland (Matthew R. Wilson), who's in the process of buying a manse to please his wife, Shearer's Elizabeth – but he's too self-absorbed to notice she hates the tainted place, a former brothel, or that she's actually planning her escape. The remaining characters aren't any better at communication, so the play builds from misunderstandings and mistaken identities. It could all be the basis for a "riotous British farce," as Constellation bills the show. The problem is, though it debuted in England in 1979 and is set in the present, Taking Steps feels as stuffy and pretentious as the house in which it's set. It rarely takes any actual steps toward being clever and funny. It's all just a ruse to make you think it is.
RALPH ELLISON'S THE INVISIBLE MAN is roughly about an African-American man's quest to find identity and meaning in the mid-20th century. But it's not a stretch for others to relate to this man's struggles. In fact, I read the book in college just as I was coming to terms with being gay, two decades ago. Though not black, I could identify with the novel's general notions of feeling like an outsider, one that few others could truly see or understand, but also one who didn't yet feel kindred to many others, especially not gay-movement leaders.
Ellison's landmark novel is now, after all these years, a play – adapted, with no new words used, by Oren Jacoby. You're likely to leave the Studio Theatre after seeing the stage production every bit as captivated – but also, confused – as you were when you first read the novel.
Invisible Man




To Oct. 14
Studio Theatre
1501 14th St. NW
$35 to $72
202-332-3300
studiotheatre.org
Yes, confused. Ellison mixed literary styles and used so much symbolism in his landmark 1952 novel you needed a guide or a teacher to help you make some sense of it. (And these many years later, you're lucky to remember many key details.) At least now you have the added benefit of sumptuous visuals, led chiefly by Alex Koch's projections, built into Troy Hourie's wondrous open-stage backdrop so that occasionally you're not sure what's a projected image and what's real. There's also ML Geiger's evocative lighting, which includes a floating ceiling of 1,369 light bulbs that can be used to both illuminate and blind. The action and the scenes, set in the Deep South and in New York, all move with as much grace as the words on the page, including the way the nine superb actors interact with one another, or linger on the sidelines and even out into the audience.
Director Christopher McElroen of the Classical Theatre of Harlem has really created a well-oiled machine here. It's a world that becomes increasingly transfixing as it gets more chaotic. By play's end, you come to like the titular character, wholly inhabited by actor Teagle F. Bougere, even if you don't fully know or understand him. Despite his professed invisibility, you can finally see him.
If you haven't exactly gotten under his skin, well, somehow, Invisible Man has gotten under yours.