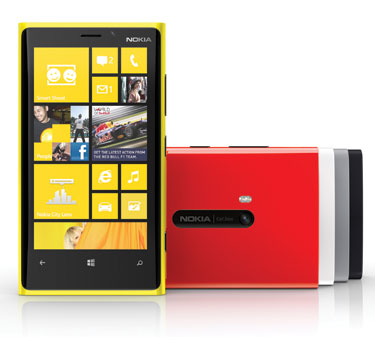 Nokia Lumia 920
NOKIA IS A NAME ubiquitous in most other parts of the world – its native Europe, especially – but one that still lacks impact in the American market. That is all set to change with their latest announcement. The Lumia 920 is coming, people, and it's time to start taking notice.
The company's Lumia handsets run Microsoft's Windows Phone software, an OS that has failed to gain foothold in a market dominated by Android and iOS. This in itself is a travesty, as Windows Phone has arguably the greatest aesthetic of the three, and features one of the smoothest, most intuitive UIs you'll see on any device. From Microsoft – go figure. It spawned the Metro UI that is the hallmark of upcoming Windows 8, and has influenced the dashboard design of the 360, but still consumers are being driven towards the latest Androids and iPhones.
The Lumia 920 aims to reverse this trend, and is doing so in a big way. One of the first handsets announced with the updated Windows Phone 8, it brings with it a raft of improvements over its predecessor, the Lumia 900, as well as a handful of new innovations to the smartphone market – ones that a fruity rival would do well to take note of.
The design of the 920 is its major selling point. With its Lumia handsets, Nokia has one of the handsomest smartphone ranges of any. This is aided in part by the Finnish company's bravado in selecting a color palette – the traditional black, stark white and grey are complemented and contrasted by neon yellow and bright red hues, which give the device a bold, prominent appearance that will help it stand out on the increasingly crowded smartphone shelves. (All Nokia needs is for the gorgeous cyan of the 900 to be a color option, as it was such a refreshing and pleasing change from the norm.)
If retina-searing colors aren't your style, perhaps a retina-searing screen is in order? Nokia has endowed the 920 with a 4.5-inch, Puremotion HD+ display. In layman's terms, that's a 1280×786 resolution IPS LCD screen, claimed to be 25 percent brighter than the next best smartphone display, with a refresh rate of 60Hz, a polarization filter, Gorilla Glass 2 ensuring it survives the worst you can throw at it (or when you throw it), and such a high level of sensitivity that Nokia claims users can operate the screen with long fingernails, or while wearing gloves – which anyone who's ever tried to use a smartphone in winter will attest is a handy thing indeed.
With an 8.7MP Carl Zeiss lens, capable of 1080p recording, and a dual LED flash, the 920's camera is the first smartphone to feature Optical Image Stabilization. Essentially, it has a floating lens that reduces and removes the blur and shake associated with hand movement while taking still images and videos. A feature normally reserved for digital SLRs, Nokia has demonstrated the tech in motion and it works as well as they claim. The camera also allows 5- to 10-times more light into the sensor than its competitors, ensuring great low-light pics, and Nokia is backing up their specs with the statement that it's the best camera currently available on a smartphone – though Sony's 13mp Exmor sensor may have something to say about that.
Other features include wireless charging utilizing the Qi standard, embedded NFC technology, 4G LTE, and a dual-core 1.5GHz Snapdragon S4 ensuring that Windows Phone 8 flies on the device when it launches. Paired with 1GB of RAM and a 2000mAh battery, the 920 should remain fast and functional all day long. Available in 32GB, the 920 is expected to launch later this year, following the official announcement of Windows Phone 8 from Microsoft in the coming months.
Nokia deserves for the Lumia 920 to be a hit. It's a phone that eschews the hard industrial look of the iPhone 5, and ignores the black and white metal and plastic Galaxy, RAZR and One devices, instead offering a design that is as fun as it is beautiful. The company has provided real innovation, not mere incremental upgrades, and perhaps even outmaneuvered Cupertino in being the device that best gives that elusive "wow" factor. Whether it can deliver the goods upon launch remains to be seen, but this bold, beautiful phone demands your attention – and, I reckon, warrants it.
Read more of Rhuaridh Marr's technology writing at our blog, Technocrat.