The Southern Poverty Law Center is following up on the group's July warning to the Falls Church-based Public Advocate of the United States and the group's president, Eugene Delgaudio, a Loudon County Board supervisor, announcing that SPLC is moving forward with a lawsuit.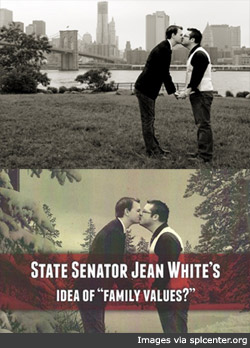 At issue is a same-sex couple's engagement photo, appropriated by the anti-gay Public Advocate group for a Colorado campaign letter.
The photographed couple, Brian Edwards and Tom Privitere, of New York, and the photographer, Kristina Hill, contacted SPLC after finding their photo being altered to attack a Republican Colorado state senator who voted in favor of civil unions, according to The Colorado Independent.
"Public Advocate, a group identified as a hate group by the SPLC, used the couple's personal engagement photo without permission and altered the image to include anti-gay propaganda to attack Colorado state lawmakers including Sen. Jean White, who supported Colorado's civil union legislation," reads a statement from SPLC indicating that the suit will be filed tomorrow, Sept. 26, in U.S. District Court of Colorado.
[Photos: SPLC posted these images of Brian Edwards and Tom Privitere's original image (top right) and the altered version.]