Despite the repeal of "Don't Ask, Don't Tell," Jennifer Pollom's work life hasn't changed much in terms of what she divulges to her co-workers or superiors.
"I still have problems with just talking about what I did for the weekend or whatever," the 29-year-old enlisted Army information technology specialist, who prefers not to list her rank, says. "Just because I'm so used to not being able to be gay, I still don't want that judgment. I don't want you to be like, 'You're a horrible soldier,' just because you're not going to judge me on who I am, you're going to judge me on what I am. So I'm still very hesitant."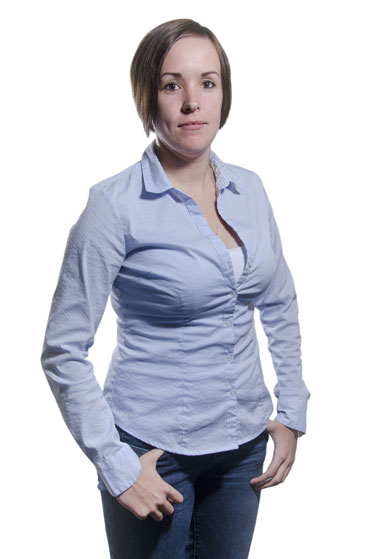 Jennifer Pollom
(Photo by Julian Vankim)
It's the remnants of the rescinded policy and the overall conservative nature of the military that leave Pollom reticent to discuss among her military peers anything involving her sexual orientation.
"I'd never go to the Army Ball and bring a date, a girl," she says flatly. "If we were walking down past where I worked, if I had my girlfriend with me, I'd never hold her hand. I would walk behind her or in front of her."
But aside from her personal reservations, Pollom says being gay or lesbian in the military is much easier now as she can't be dismissed if someone does find out about her sexual orientation – something that almost got her kicked out when "Don't Ask, Don't Tell" was still in place.
Pollom says that when she was stationed overseas about a dozen people knew she was a lesbian. But a minor squabble with her roommate prompted the woman to report Pollom to a higher-ranking officer as retaliation, alleging that Pollom was a lesbian. That accusation could have led to Pollom being dismissed from the Army.
"Our barracks overseas are very, very tiny, so you're pretty much stuck in close quarters," Pollom explains. "And the female that I roomed with had this naked painting of her. I just asked her, 'Hey, can you take that down? I don't like that. It's kind of weird.' She went and told my [supervisor] that I was a lesbian and that I was trying to hit on her. Obviously, I wasn't doing any of those things, but people will get pissed at you and then they'll attack you to try and ruin your career."
Luckily for Pollom her superior officer thought she was a good soldier.
Pollom, in the Army for nearly a decade, loves her job. Pollom's father and grandfather were members of the Air Force and Pollom always had an interest in joining the military.
"I was going to college, but I wasn't ready," Pollom says of her late teens. Instead, she says with a laugh, "I love to shoot stuff, so I wanted to join the Army."
"I saw a [military] commercial on the TV and, literally, five minutes later a recruiter called me from the Army," she recalls. "I went down and joined the military."
Pollom says she got married to a man while enlisted, but being apart due to their service led the two to decide to separate and eventually divorce not long after. It was around that time that she became fully aware of her sexuality.
"I was mostly stationed with men and – I'm not trying to boast, but I'm an attractive woman – whenever they found out I was a lesbian, they were like, 'That's hot, let's go hit on girls together,"' she says. "But then you had those women that didn't like that I was a lesbian, and if they found out they would tattle on you. So it was really like, 'I want to go hang out with my boys, but I can't let these girls find out.' It was kind of like, stay in your room and don't go out if you didn't want to be told on."
While serving under "Don't Ask, Don't Tell," Pollom says she met other servicemembers who were gay or lesbian. But even that interaction was tricky, particularly in the months between the vote for repeal of DADT and the actual implementation of that repeal.
"I was having a problem with some of my younger soldiers who were gay or lesbian," Pollom shares. "They got a little confused. I kept trying to tell them, 'Don't say anything yet, because you are not allowed to be out.' A lot of people didn't understand that. I just kept my mouth shut."
During the transitional period, the soldiers received some training on what repeal of "Don't Ask, Don't Tell" would mean. At times, Pollom would correct her supervising sergeant, a close friend, about using slurs such as "homos," and gently educate others about the repeal.
"When I had the [repeal-training] class – a couple of people knew I was gay – they said, 'Gay people will not have private barracks.' Everybody's head sort of turned towards me. I was thinking, 'Guys, stop looking at me, you're going to tell everyone I'm gay. Jesus."'
Overall, though, Pollom gives the implementation of the "Don't Ask, Don't Tell" repeal high marks.
"It was quite well done," she says. "It could have been 20-times worse. They were saying how you're not supposed to say 'homo' or 'faggots,' derogatory words, how you can't write anything on the bathroom walls, anything that would have happened when women entered the military or when black people entered the military, except now we have gays. I thought it was well done."
Pollom says candidly that she believes it will take a few more years for the policy to settle in and for people to feel comfortable with it, particularly older soldiers and higher-ranking officers. Still, she notes, that's progress. She adds that the younger soldiers seem to not have a problem with the issue.
"It's definitely harder for the boys than for the girls, 100 percent," she says. "If they get a whiff that you're gay, it can be horrible. You'll even go into units where they still hate women, so it's going to take time."
But Pollom also notes that nothing has changed in terms of gay or lesbian soldiers' ability or desire to serve.
"The military has not changed," she confirms. "We're still the same people. We fight for the same reasons. We're the exact same people we were before this thing happened."