Microsoft made one thing clear this week — it wants you to touch it. Ushering in three separate launches in the space of a few short days, the Redmond, Wash.-based software giant's focus is on touch-enabled experiences, from desktop to mobile, and it sought to unite those disparate elements under its most ubiquitous brand – Windows.
Windows 8 is the company's latest update to its all-conquering OS, an attempt to bring Windows to more devices and form factors than ever before. Windows Phone 8 brings with it a new software core, one shared with its desktop cousin to bridge the smartphone/PC divide, and a new set of hardware requirements to help lift Windows Phones up to a competing standard with the Android and iPhone benchmarks. Microsoft also made history with the launch of its Surface tablet, one that runs Windows RT, a version of Windows 8 developed specifically for low-powered tablets. Microsoft has a game plan, and with Windows, it wants to take an even greater slice of the consumer pie by bringing as many as possible into its united ecosystem – a strategy its fruity Cupertino, Calif., rival has enjoyed great success with.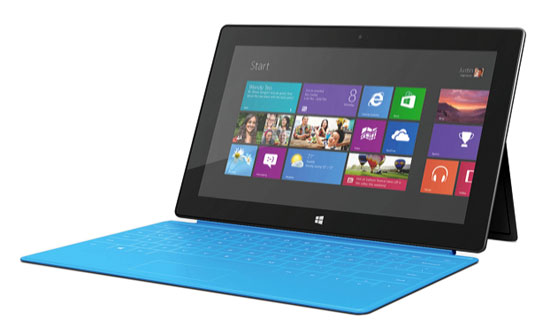 Surface with cyan cover
Windows 8 is without question the most important of the three. Windows is Microsoft's backbone, its cash cow, the one thing the company can always rely on to keep bringing in profits. There's no denying Windows' popularity – it enjoys a near 90 percent global market share – and little point succumbing to the doomsday naysayers who predict every successive version of Windows will be Microsoft's downfall. It won't happen, there's simply too many people, businesses and schools using the OS on too many devices for it to fail. To put things in perspective, Vista – which many decried as a flop for Microsoft – sold well over 300 million copies. In June this year, Apple put the total number of Mac users – across all versions of the OS – at just 66 million. In January, Microsoft claimed over half a billion licenses for Windows 7 had been sold, with that number now around 670 million. Windows 8 will not fail.