"We've nicknamed it the Beef Jerky Dress around here," laughs Kathryn Wat, chief curator at the National Museum of Women in the Arts. She's referring to the rare-steak Meat Dress Lady Gaga wore to the 2010 MTV Video Music Awards as part of her protest against DADT. Wat says Gaga initially instructed Cleveland's Rock and Roll Hall of Fame to "just let it rot" when adding it to an exhibition, "but of course that's not realistic for touring the artifact." So instead, Wat explains, the 25 pounds of Argentinian beef was essentially "taxidermied" and repainted to resemble the original look.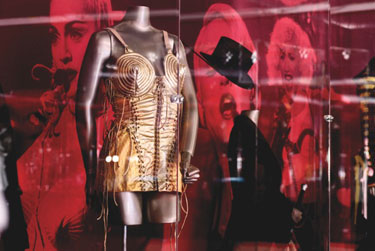 Madonna: Women who Rock
(Photo by Courtesy of Rock and Roll Hall of Fame and Museum)
Gaga's dress is just the most famous – or infamous – of more than 250 artifacts in the Hall of Fame's exhibition "Women Who Rock: Vision, Passion, Power," now at Wat's NMWA as the first stop on a national tour. The exhibition also features two outfits worn by Madonna, including the iconic Jean-Paul Gaultier cone-bra bustier, as well as the dress and shoes Cyndi Lauper wore on the cover of her 1983 debut She's So Unusual. But it's not all eccentric costumes. The exhibition also features guitars from the "Queen of Rockabilly" Wanda Jackson, Melissa Etheridge and the Pretenders' Chrissie Hynde; a peppermint drum head from Meg White of the White Stripes; plus performance videos, tour ledgers, dressing room door notes – "all kinds of ephemera from the business of rock," as Wat puts it.
The exhibition offers insight into women's underappreciated role in shaping popular music. Though few would question women's influence in pop music today, women's influence nearly a century ago was less obvious yet just as significant. "One of the things I learned from the exhibition," says Wat, a visual arts historian by training, "is that women artists were among the very first to record [particular genres] of music." Legions of traveling male blues and country musicians might have gone before them, but Wat notes that Bessie Smith and "Mother" Maybelle Carter of the Carter Family were the first to record the blues and country, respectively, feats both achieved way back in the 1920s.
"From the very beginning," says Wat, "women have had a tremendous impact." '
"Women Who Rock" runs through Jan. 6 at the National Museum of Women in the Arts, 1250 New York Ave. NW. Admission is $10. Call 202-783-5000 or visit nmwa.org.