It may take place the Saturday before Halloween, but the costume party at L'Enfant Café near Adams Morgan is "not full-on costume," explains Chord Bezerra. It's also not specifically a Halloween event.
Instead, it just happens to be the second edition of Bezerra's fourth-Saturday-of-the-month Etiquette Party, what you might call a fashion fetish party. Or, as Bezerra says, "a proper place for people to misbehave."
So you can dress up as little as you like – though no T-shirts or sneakers, please. "Most people who don't show up in dress code quickly realize that they're in the minority," says Bezerra.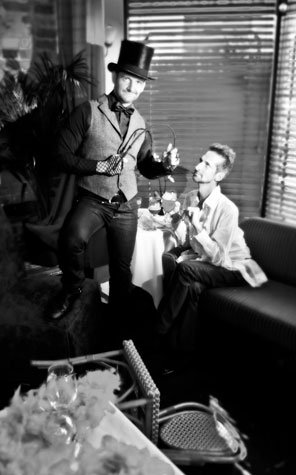 L'Enfant Etiquette: DJ Chord and Jim
(Photo by Todd Franson)
So what is the dress code? Each month offers a different theme intended merely as guidance, from "Creative Cocktail with an Edge" to "Seersucker Social." This month's theme is a bit naughtier – just because it's not a Halloween party doesn't mean it isn't influenced by the holiday – "Shades of Grey Masquerade Ball," a play on the infamous book 50 Shades of Grey. "For guys," advises Bezerra, "you can wear a white shirt, gray pants and tie and a leather collar. Or just handcuffs." They could also consider a lace blindfold, or just heavy mascara and eyeliner, in honor of the masquerade theme.
Bezerra, the buying and marketing manager for Universal Gear, got the idea for the party while he was living in Los Angeles for a few years last decade. "There was an event there called Mr. Black," he says, "[held] in an older building, so rustic [with] a lot dim lighting. And the whole theme is sexy house music. [It drew] an eclectic group of people, and these people would get dressed up and just really have a great time and let loose. It wasn't stuffy." It's similar to what the 32-year-old Bezerra, who's also known around D.C. as DJ Chord imagines New York's late, legendary disco haven Studio 54 must have been like.
Bezerra decided L'Enfant was the perfect venue for a D.C. variant on the party. "They have a small space, but they do these amazing things with that space, and it just creates these amazing atmospheres," he says about L'Enfant. DJ Chord spins in the space pretty much every other Saturday for the insanely popular La Boum brunch dance party as well as many of its special-Sunday Speak Easy cabarets. As with both of those events, Etiquette, which Bezerra throws with four other hosts, attracts a mixed crowd, "not just gay, not just straight," he says." "From drag queens to a straight Hill staffer and his girlfriend – and everything in between."
Etiquette starts after Saturday night dinner hours. And in such a small space – L'Enfant can pack in only about 150 people, give or take another dozen or so if weather permits partying on the patio – the party reaches capacity quickly. Last month, that happened just before midnight. After that point, the party moves to a members-only policy. There's no fee to become a member, Bezerra explains, but all members are tasked with bringing three guests to the party. (Send membership inquiries to invite@etiquette.com.)
The music, courtesy of DJ Chord, is "a sexy house set. As we go later into the night, there's a champagne toast, and then the music becomes a little bit more poppy, a little bit more upbeat."
And just what will the DJ wear? "I've got a silver suit as well as a black leather harness," says Bezerra. "And a black leather mask." Kinky yet classy. Nothing to fear here, dear.
Etiquette is this Saturday, Oct. 27, starting at 10:30 p.m. L'Enfant Café, 2000 18th St. Cover is $5. Call 202-319-1800 or visit lenfantcafe.com.