In this age in which every successful fantasy or adventure novel has been – or will be – fully "realized" via computer generation, there is something downright heroic about a live performance. And in War Horse, the theatrical event based on Michael Morpurgo's book for young teens, with its spectacular life-size puppet horses, the Handspring Puppet Company puts motherboards everywhere to shame. These beautifully engineered, masterfully operated creatures – born only to be seen onstage – are lump-in-the-throat reminders that true storytelling (computer-generated or otherwise) always begins with the human touch.
Capturing everything that is big, unpredictable and yet graceful in horses, one can only imagine what it took for Toby Sedgwick, director of movement and choreography, to research and then translate this essence of horse into the mechanical beings that fill the War Horse stage. These horses move, react, think with authenticity.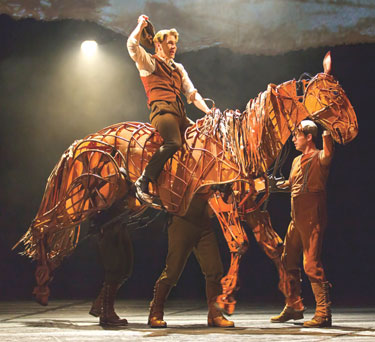 War Horse
But as clever as this is, there is yet more artistry in the very big choice to embrace versus hide the puppetry. Transparently mechanical, their pulleys, mesh and metal on display, these horses are practically erector sets on legs. The puppeteers who operate them are clearly visible. Three, sometimes more, travel everywhere with the horses like a coterie of mute and unassuming grooms. One would think it all a distraction and yet it is exactly this bold artifice that makes the transformation of these giant machines – and they do transform – into living, breathing animals so spectacular.
And though they certainly keep Morpurgo's plot galloping along – or at least its bones, as adapted by Nick Stafford – these horses express an even wider theatrical vision. Moving against the simple but effectively animated backdrop, they become alternately sculptures in space, essays in movement, sketches in an artist's rendering. The moment when Joey, the war horse of the title, turns from foal to adult, for example, is simply breathtaking; a joyous antidote to all that is virtual. These are the moments that will speak to the seasoned theatergoer as much as they will to the young teens seeing their favorite book brought to life.
And the play is faithful to the book. Though it lags somewhat in the second act, tour director Bijan Sheibani brings just enough cohesion, if not dramatic tension, to keep adult yawns at bay. Set on the eve of World War I, small-time Devonshire, England, farmer Ted Narracott ends a bidding war in possession of a foal called Joey. Though he and wife Rose see the horse as a millstone, son Albert names, nurtures and protects the young Joey into adulthood. Despite his son's devotion, Ted callously and quickly sells Joey to the British army when they come looking for cavalry horses. Joey goes off to France as the mount of the kindly Lt. James Nicholls, but when Nicholls is killed in battle he falls into the hands of the Germans. After toiling for the German army and a brief respite with a horse-loving German officer, Joey returns into the chaos of battle until, trapped and injured, he is claimed by the British. A distraught Albert, who has enlisted in the hope of finding Joey, serves his way through France until serendipity strikes and he is reunited with his old friend.
Though they carry the story ably, truth be told, the humans can't compete with the horses. And having said that, it's doubtful they were ever meant to. As much as adults may marvel at the puppet artistry, this piece surely is intended first and foremost for an audience of older children and young teens. Thus, the true job of these characters, and the actors who play them, is to drive a recognizable plot amid gunfire, bomb flashes, quite a lot of music and, of course, the seriously scene-stealing mega-puppets. Looked at this way, it's easier to forgive the odd moments of woodenness, over-zealous representation and some of the more "creative" and often muffled attempts at European accents. They get the job done.
Bringing plenty of late-adolescent energy to his Albert, Andrew Veenstra is affecting and believable in his love for Joey, while Angela Reed is suitably long-suffering as his mother, Rose. As Pvt. David Taylor, Albert's friend in battle, Alex Morf gives a notably clear and well-realized performance. Another standout is Brian Keane who imbues his potty-mouthed Sgt. Thunder with robust presence and good comic timing. As the ill-fated Lt. Nicholls, Jason Loughlin just about gets the accent right and delivers his 20th century British officer just as the 21st century likes to see them. In the role of Capt. Friedrich Muller, the horse-loving German officer, Andrew May gives capable expression to a man in conflict. Singing his ballads with a fine melancholy tone, John Milosich's Song Man adds much to the piece.
War Horse




1/2
To Nov. 11
Kennedy Center
Opera House
2700 F St. NW
$25 to $175
202-467-4600
www.kennedy-center.org
But as hard as this cast works, the real kudos must still go to the puppeteers who toil tirelessly to keep their horses so believable and expressive. Activating the foal Joey's head, a quietly captivating Laurabeth Breya moves her horse with gentle dexterity while Catherine Gowl and Nick Lamedica give a suitably awkward energy to the foal's body. As the adult Joey, Christopher Mai seamlessly works the head, a man there but not there; while Derek Stratton and Rob Laqui labor skillfully within to give the horse power and grace. As Topthorn, the horse Joey befriends on the battlefield, Danny Yoerges, Brian Robert Burns and Gregory Manley suggest a very different personality without losing any of the animal's authenticity.
Truly original and spectacularly conceived and executed, this is one puppet show you won't want to miss.