Family Research Council President Tony Perkins hinted at legal action against Dan Savage today after the founder of the It Gets Better Project unleashed a tirade against Perkins and the FRC during a speech at Winona State University in Minnesota.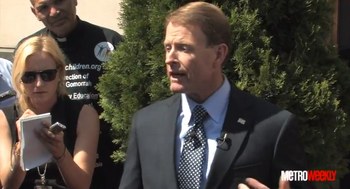 Speaking to university students last week, Savage said Perkins "sits on a pile of dead gay kids everyday when he goes to work."
Savage went on to say that Perkins and FRC have played a role in the number of suicides among LGBT youth because of the message they send to parents, including telling those parents to reject gay children.
"Tony Perkins tells the parents of queer kids to do what Tony Perkins damn well knows drives those kids to suicide," Savage said. "Why would someone who calls themselves a Christian do that? Because every dead gay kid is a victory for the Family Research Council."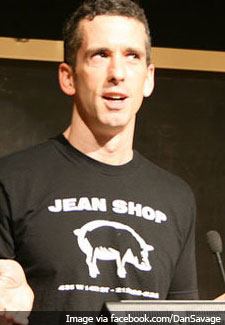 An excerpt of Savage's speech was posted on a conservative website earlier this week, which Perkins responded to today. Mike Huckabee interviewed Perkins on his radio show and asked Perkins about Savage's "rude, vile, and angry" remarks.
"As my teenagers would say, he has some issues," Perkins responded. "He is a man with some real deep-seated issues."
Perkins added that Savage was "out of control" and that FRC was "pursuing everything possible" to deal with him, implying that FRC might take legal action against the outspoken writer and activist.
Perkins went on to credit anger at the FRC, which has been designated a "hate group" by the Southern Poverty Law Center, to a lack of self-fulfillment in the lives of gay people.
"Even if society embraced homosexuality, there would never be that sense of self-fulfillment because it's outside the way God created man and woman," Perkins said. "And that's the bottom line. They cannot erase that, even if they get every law on the books changed, it will never change that."
WATCH an excerpt of Savage's remarks here: