Gallaudet University President Alan Hurwitz this morning defended his decision to place an employee on administrative leave after it was revealed she signed a petition to subject Maryland's recently passed marriage-equality law to a November vote, but said he would like to work with the staffer so she can return to work, according to The Washington Post.
Angela McCaskill, the university's chief diversity officer, was placed on leave after a fellow faculty member noticed her name, address and signature on a list of people who had signed the petition to force a vote on the marriage-equality law, according to Planet Deaf Queer, an online resource for deaf people, which had initially reported that McCaskill had signed the petition.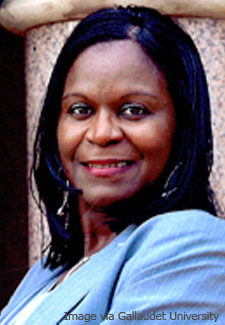 Dr. Angela McCaskill
(Photo by via Gallaudet.edu)
According to Planet Deaf Queer, McCaskill, who was known on campus as a strong supporter of the campus's LGBTQA Resource Center, confirmed to her co-worker she had signed the marriage petition after church, where her pastor spoke against marriage equality, and her husband then convinced her to sign the petition.
As the Gallaudet community became aware of the news, Hurwitz placed McCaskill on administrative leave, noting that some felt McCaskill's actions inappropriate and possibly in conflict with her duties as chief diversity officer.
"I placed [McCaskill] on paid administrative leave as a prudent action to allow the university – and Dr. McCaskill – the time to consider this question after the emotions of first reactions subsided," Hurwitz said in a statement in which he expressed hope that the university would be able to reach a resolution with McCaskill. "While this has become an issue beyond our campus, as President of Gallaudet University, my number one concern is our university community – our students, faculty and staff and so many others who support us. I act on their behalf, not with any agenda other than their well-being as all of us work to prepare these university students for the future."
Hurwitz's statement comes days after activists on both sides of the marriage-equality debate criticized the university for its actions. Marylanders for Marriage Equality, the coalition of labor, religious and community groups seeking to uphold the marriage law, faulted Gallaudet's actions and issued a statement in support of McCaskill.
"We strongly disagree with the decision to put the chief diversity officer on leave and hope she is reinstated immediately," Josh Levin, campaign manager for Marylanders for Marriage Equality, said in a statement issued Oct. 11. "Everyone is entitled to free speech and to their own opinion about Question 6, which is about treating everyone fairly and equally under the law."
But anti-marriage-equality opponents of Question 6, the Maryland marriage referendum, pounced on McCaskill's suspension, attempting to portray it as an example of how religious liberties would suffer if Question 6 passes and the state's marriage-equality law goes into effect.
"I join an ever-growing number of Marylanders in expressing my complete dismay over Gallaudet University's decision to place Dr. Angela McCaskill on administrative leave for signing the marriage referendum petition," Derek McCoy, president of the Maryland Marriage Alliance, said in a statement.
McCoy also pointed out that McCaskill's decision to sign the petition does not necessarily equate to a position on marriage equality, but indicates only her support for putting the decision whether to allow same-sex couples access to marriage licenses on the ballot.
"Unfortunately, this is only the latest in a long list of attacks on individuals who express support for marriage as a union between one man and one woman," McCoy continued. "If such attacks can be made before same-sex marriage is law, how can homosexual activists in good faith say that religious liberties will not be attacked if Question Six passes?"
Other conservative groups injected themselves into the controversy to denounce supporters of marriage equality, with Tony Perkins, president of the anti-gay Family Research Council, circulating a petition supporting McCaskill. The petition, which will be sent to Hurwitz, asks that McCaskill be fully reinstated.
"Gallaudet University's discriminatory action reflects a troubling nationwide trend of voter intimidation and bullying tactics against those who uphold marriage as the union of one man and one woman," Perkins wrote in an email promoting his petition, comparing the situation to the "bullying" he alleges was committed by the LGBT community against Chick-fil-A CEO Dan Cathy following his public opposition to marriage equality. "We have seen that wherever marriage is redefined, we can only expect more of these civil rights violations."
Supporters of Question 6 and marriage equality have long maintained that, as written, Maryland's Civil Marriage Protection Act, which was signed into law by Gov. Martin O'Malley (D) in March, specifically underscores protections for clergy, churches and religious institutions, allowing them not to recognize or perform marriages that violate their religious beliefs.
As it appears on the ballot, Question 6 reads: "Establishes that Maryland's civil marriage laws allow gay and lesbian couples to obtain a civil marriage license, provided they are not otherwise prohibited from marrying; protects clergy from having to perform any particular marriage ceremony in violation of their religious beliefs; affirms that each religious faith has exclusive control over its theological doctrine regarding who may marry within that faith; and provides that religious organizations and certain related entities are not required to provide goods, services, or benefits to an individual related to the celebration or promotion of marriage in violation of their religious beliefs."