Years ago, Esther Hidalgo didn't find much celebration of Hispanic heritage. At her suburban Maryland middle school, as a Latina she was in a minority of just two or three kids. There was no mention of National Hispanic Heritage Month, though she does remember one curious kid once asking if she had enchiladas for dinner every night. Discussion of Hidalgo's Cuban-Puerto Rican heritage was largely left at home.
"My parents really made a point of cultivating a sense of pride in me, but at school I had to deal with a lot of assimilation," the 33-year-old remembers. "It was never, 'We're going to talk about your heritage,' but we had a lot of conversations at the dinner table, casually. [My parents] would remind me, 'Just because you don't look like them doesn't mean you're not as good as them.' My mother would say, 'The Cuban women in our family are strong; you have to be strong like them."'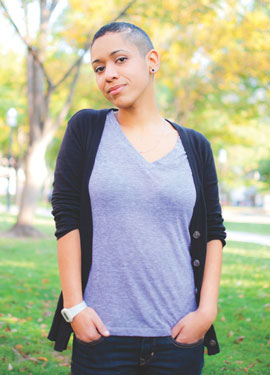 Esther Hidalgo
A few years later, coming out as a lesbian added another layer of identity for Hidalgo. José Gutierrez, founder of the local Latino GLBT History Project (LHP), was among those with whom she was able to discuss both aspects during the hours they worked together at the Leather Rack. At the time, Hidalgo was studying fine art photography, adding another topic for them to discuss – and another that prompted Gutierrez to suggest she join the LHP.
"I just kept saying no, didn't want to get involved," she says. Aside from school and two part-time jobs, Hidalgo simply didn't feel comfortable in what she saw as a more activist identity.
"Activism can take on different faces," she explains. "There are avenues for making change on multiple levels. You can raise your fist. That's awesome. It's just not me. I'm very shy."
Fast forward to little more than a year ago and enough had changed that Hidalgo felt she had more to offer. Going back to school to study library and information science, Hidalgo was getting some archival experience. Coincidentally, her girlfriend ran into Gutierrez and LHP's current president, David Pérez, who said they were looking for someone to help organize LHP's vast archive of photos, fliers and all the rest documenting decades of the Latino LGBT experience in the D.C. area. With that, Hidalgo found her activist identity. From the archive committee and organizing LHP's first women's event, during the summer Hidalgo was elected as LHP's first vice president. Beyond her official capacity, she's eager to promote LHP's 7th Annual Hispanic LGBTQ Heritage Awards Reception, closing out National Hispanic Heritage Month (Sept. 15 to Oct. 15). That evening, Oct. 19, the group will honor Jocelyn Carrillo, owner of Majestic; Catherine Pino, founder of D&P Creative Solutions; Russell D. Roybal, deputy executive director of external relations at the National Gay and Lesbian Task Force; and Bamby Salcedo, founder of the TransLatina Coalition.
"It's going to be festive," Hidalgo promises. "It's great to be in a positive environment like that, where not only are we celebrating ourselves, but we're celebrating our allies for coming out to support us. We're in a global society now. We can celebrate our identities, but it's a world party. Everyone who wants to celebrate diversity is welcome."
The 7th Annual Hispanic LGBTQ Heritage Awards Reception is Friday, Oct. 19, 7 to 9 p.m., at the Human Rights Campaign Equality Center, 1640 Rhode Island Ave. NW. Admission is $25, benefiting LHP. 202-670-5547, latinoglbthistory.org.