"If you can play, you can play."
It's a simple statement that, on the surface, seems like basic common sense. But for LGBT athletes who feel the need to stay in the closet or, worse, not play at all, it's a statement of a dream.
And for Patrick Burke, 29, National Hockey League talent scout for the Philadelphia Flyers and son of Toronto Maple Leafs general manager Brian Burke, it's a statement of mission to make that dream come true through the new sports-focused organization, You Can Play.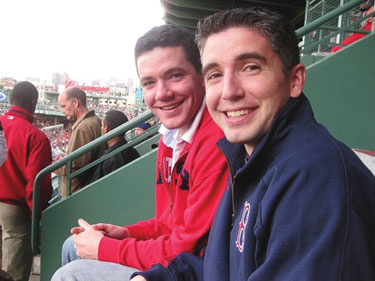 Brendan and Patrick Burke
"For a long time there's been a big gap between the sports community and the LGBT community," says Patrick Burke. "They're seen not just as separate, but in a lot of ways as opposing, and we know that's not true. We know that when you sit down and talk with athletes, they're not homophobic. They say the wrong things at times and we have to work on changing the language. But you ask someone, 'Would you welcome a gay teammate?' and they all go, 'Well, yeah."'
It's not simply the deep family history of professional hockey that made this Burke's personal mission – it's also the story of his younger brother, Brendan, who came out to his family in 2007. In 2009, Brendan came out publicly on ESPN.com while working for the men's hockey team at Ohio's Miami University. His highly respected father was just as public in his support. Brendan was a key part in the growing awareness of the presence of LGBT people in professional sports.
But in 2010, Brendan was killed in a car accident, leaving behind a devastated family and thousands of friends and acquaintances he had inspired. It was Patrick, who had lost his little brother and best friend, who decided to take what Brendan had already accomplished and turn it into a legacy for the sports world.
With his co-founders and fellow allies Brian Kitts and Glenn Witman, Burke launched the You Can Play project in March of this year. The group has already been honored with a GLAAD Media Award for its video, "The Faceoff," and has produced a number of other videos featuring professional and collegiate athletes telling the LGBT community, "If you can play, you can play." Participation has already been stellar from the NHL, including the Washington Capitals, and has branched into other sports, with D.C. United soccer contributing a spot.
"I could film professional athletes from every sport tomorrow," says Burke of the outpouring of support from other leagues, while noting that it's a time-consuming process for a brand-new organization to work out the timing with the NFL, NBA and MLB. "I believe, hopefully by our one-year anniversary, that we'll start doing more with the other leagues on a wider scale."
This Saturday, Oct. 13, Burke will receive the Team DC Community Support Award at the group's annual Champions Reception, where six young LGBT athletes will also be awarded scholarships. It's a fitting place to mark the achievements of allies who are making sports more welcoming for LGBT people of all ages.
"Groups that connect with the local LGBT community, that type of outreach and support is so vital," says Burke. "That Team DC does these things — they're here, they're present, they're a part of people's lives, and I think the stuff that they do is just amazing."
METRO WEEKLY: I know that You Can Play has a mission statement, but what's your personal mission statement in terms of creating You Can Play?
PATRICK BURKE: I want sports to be safe for everyone. I grew up in a sports family. My father was running a hockey team basically since the day I was born. It's given so much to my life, from the very practical sense that it basically paid for everything I've ever done to the fact that being part of a team and being with your friends. Some of my best friends in the world are still the kids that I played high-school hockey with.
We need to give that gift of sports to the LGBT community. Right now, [according to] the Centers for Disease Control [and Prevention] (CDC), 46 percent of LGBT high-schoolers are athletes. The other half have to go to school with athletes, by the way, but that's a second issue. So half of the gay community is athletes and yet we have so few openly gay athletes at the professional level. Even at the college level we have so few. And it's because the culture needs to change. What we're trying to do with You Can Play is make safe spaces in professional sports, in the collegiate sports and high-school sports, so that LGBT athletes can come out, can play the sport that they love and can get all the benefits of being part of an athletic team without all the fear and harassment and hiding and intimidation that they're dealing with right now.
MW: In terms of the videos You Can Play has produced, does any one stand out as something you're particularly proud of?
BURKE: The original one, "The Faceoff," actually just won a GLAAD award for excellence in media. It's the only one that I'm in and will ever be in. I'm proud of it because it talks about my brother. I'm proud of it because it was produced by HBO and it's got 12 of the biggest names in hockey. When we first talked about launching this thing, someone told me, "You're not going to get athletes, you're just not." And then I launched and had 12 of the biggest names in hockey. I'm very proud of that one. The next one on the NHL level would be Brooks Orpick of the Pittsburgh Penguins. I think everyone should watch that one. Brooks has been a family friend for a long time and it's incredibly touching and heartfelt to see him talking. But I love all of them, I could talk for hours about them.
MW: I think some people are surprised to see something like this coming out of the professional hockey world. How do you think people misjudge hockey, particularly LGBT people, as a sport when it comes to these issues?
BURKE: Hockey players are some of the nicest, nicest people in the world. National Hockey League players do more charity work than any other league. If you ask anyone who deals with professional athletes on a daily basis — media, hotels, travel people, airlines — who are the nicest athletes to deal with, who are the most respectful, who are the most down-to-earth? I guarantee you 99 times out of 100 they would say hockey players. We haven't had a player say no to us yet.
We said from the start that we feel like we're fighting two stereotypes. One is the stereotype that there are no gay athletes, and the second is the stereotype that all athletes are just these big meatheads. I know that in every '80s movie and on Glee the athletes are the bullies, and that does exist in a lot of high schools, and we need to fix and change that. But athletes are good people. Athletes are educated, athletes are worldly, athletes travel a lot, they have international friends. Athletes aren't the stereotype. It hasn't been hard to recruit athletes to this at all. It's been very, very simple.
MW: Any male professional athlete I've interviewed, who has come out after retirement, has pretty much said that they felt pressure or they were afraid to come out within that particular culture. Are the straight athletes even aware of that culture, or is it just something like air that's always there but they just don't notice it?
BURKE: We call it a "holy shit" moment. You sit down with them and you say, "Look, I know you've been throwing around these homophobic slurs a lot, I know you think that in your locker room that's okay." And then I get up there with LGBT athletes who share their stories and say, "I felt afraid, I felt intimidated, I felt isolated." So I'm standing on stage looking at 200 college athletes and you can see guys looking around going, "Holy shit, I didn't even realize." So I don't think athletes are really aware of the issue. There's a big disconnect right now between the athletes' beliefs and the athletes' language. Ask them if they support the gay community and they'll say, "Yes, of course, I do." Then ask them how many times yesterday did you use a homophobic slur, and they go, oh. We're trying to get the lightbulb to go on for these guys.
MW: When your brother Brendan came out in 2007, was it a surprise for your family?
BURKE: It was a surprise, but I can't imagine an easier coming out when it comes to your siblings. I know that our family can be tough and intimidating, but Brendan didn't have a negative experience. I got the sense from him a couple weeks after he did it, he was like, "What the hell was I waiting for?"