The 26th annual AIDS Walk Washington is coming together. The community has already raised more than $500,000 for Whitman-Walker Health and 17 "Community Partner" organizations. Nearly 4,000 people have registered to walk the Oct. 27 circuit or participate in the 5k timed run. The DC Cowboys are scheduled for one final farewell performance. The grand marshals – 20-month-old Miles Daniels and 10-week-old Milaya Daniels – have been selected to represent the hope for an AIDS-free generation.
And the day's two awardees have been named. The GEICO insurance company, long involved with AIDS Walk, is receiving the Community Service Award. The Courage Award? That's going to George Kerr, co-founder and executive director of START (Syringe, Training, Advocacy, Resources and Treatment) at Westminster, a program of D.C.'s Westminster Presbyterian Church.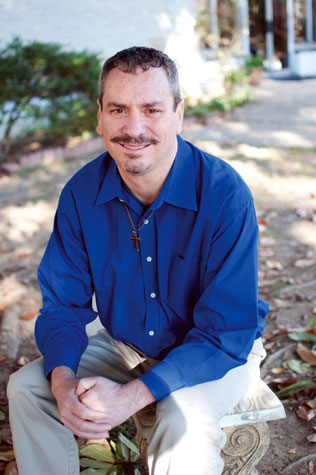 George Kerr
(Photo by Todd Franson)
While the recognition shouldn't be a surprise in that Kerr, 46, has been in the fight against HIV/AIDS in D.C. for two decades, it's a far cry from the oceangoing path he set out on.
"I planned on doing a career in the Navy, until Bill Clinton came out with the 'Don't Ask, Don't Tell' policy and I decided it was time for me to get out of the Navy," recalls Kerr, a California native who began his Navy career in San Diego. "My next assignment was going to be on a new Marines boat. By that time, I'd come to understand who I was and what I wanted in life. And that wasn't it."
Kerr, who really hadn't had any identity as a gay man prior, walked away from his Pentagon job and started a new life in D.C. At first, that meant retail – not a good two months.
"Then I went to a temp agency. On my second assignment, I stayed there for 19 years. I started out as the receptionist and worked my way up to facilities manager."
That second assignment was with the organization today called FHI 360, and Kerr's career concerned with the well being of others began. With FHI the scope was international. In 2005, he brought that perspective home, helping to found DC Fights Back, a grassroots organization advocating for people affected by HIV/AIDS. The START at Westminster effort began in 2008, offering HIV testing and counseling, education, referrals, condom distribution and more.