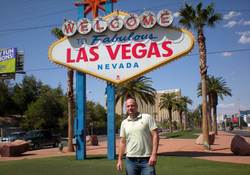 The Las Vegas Strip – including the 'Welcome to Fabulous Las Vegas' sign – will go purple for Spirit Day on Friday, Oct. 19, joining other iconic landmarks, celebrities and millions of Americans in a stand against bullying and to show support for lesbian, gay, bisexual and transgender youth. This historic display of support was announced today by GLAAD and the R&R Partners Foundation, which organized the local effort.
Kicking off this special day of unity at 10 a.m., the Clark County Commission and the Las Vegas City Council will present GLAAD President Herndon Graddick with a proclamation recognizing this important day at the Las Vegas sign, which will be turned purple, the color of support for Spirit Day. Following this, Caesars Entertainment, MGM Resorts International, Wynn Resorts, Las Vegas Sands Corporation, The Tropicana Las Vegas and The Cosmopolitan of Las Vegas will also turn their resort marquees purple along the Las Vegas Strip 11 a.m. to 11:15 a.m. and then again 10 p.m. to 10:15 p.m.
Activities will not be confirmed to the Strip, as the The Fremont Street Experience will also go purple for Spirit Day at 10 p.m. and again at 11 p.m., lighting its famed Viva Vision canopy, which consists of more than 12 million LED lights and spans four city blocks. Organized by The Gay and Lesbian Community Center of Southern Nevada, a meet-up for teens and young adults will take place that evening at the Fremont Street Experience.
Marquee Nightclub, located in The Cosmopolitan of Las Vegas, will host a Spirit Day after-party with special celebrity host NHL star Sean Avery. Guests attired in purple will receive complimentary admission and open bar 9:30 p.m. to 11 p.m. In 2011, Avery announced his support for marriage equality and worked to secure marriage protections for same-sex couples in the state of New York.
Other Las Vegas-area participants include Las Vegas Convention and Visitors Authority; Aid for AIDS of Nevada; Golden Rainbow; Hilton Garden Inn; Las Vegas Chamber of Commerce; Las Vegas Pride; Nevada State Senator David Parks; QVegas; and the University of Nevada, Las Vegas. In addition, the Human Rights Campaign has donated several hundred tee-shirts in recognition of Spirit Day, which will be distributed to LGBT youth.
Spirit Day grew out of teenager Brittany McMillan's idea to call on her friends to wear purple to memorialize those who had lost their lives to bullying. With GLAAD's help, Spirit Day has since garnered widespread support from celebrities, TV news and entertainment programs, corporations, organizations, schools, local communities and landmarks. Spirit Day coincides with Gay, Lesbian and Straight Education Network's Ally Week and National Bullying Prevention Month.
"By going purple for Spirit Day, millions of Americans are helping to send a clear message that no one should be bullied simply because of who they are," said GLAAD President Herndon Graddick.
In the Washington, D.C. area, the Discovery headquarters building in Silver Spring, Md., will participate in Spirit Day and be lighted in purple.
More information on Spirit Day activities across the nation, is available on GLAAD's website: www.glaad.org.