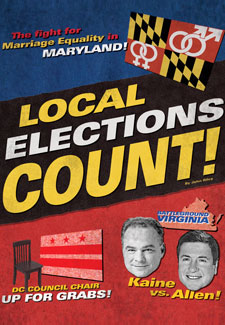 The United States might be in the grips of election fever, as Barack Obama and Mitt Romney duke it out in cash-covered campaigns. In the DMV – D.C., Maryland and Virginia – that fever exists, but to varying degrees and for various reasons.
There's no doubt that Obama will win the District and Maryland. Virginia, however, is a wild card. And although Maryland is solidly blue, the question of the season is whether the state's voters will break with history and allow Maryland's marriage-equality law to take effect. In the District, the chair of the D.C. Council is in play, along with plenty of other seats.
The presidential race might be the scene-stealer, but there is plenty to watch at the local level as the DMV heads into Election Day.
NO SPOTLIGHT, BUT A FULL BALLOT IN D.C.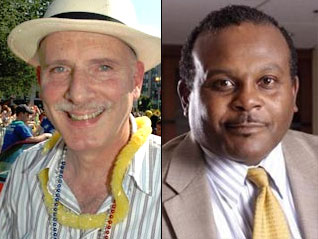 Phil Mendelson and Calvin Gurley
It's hard being an unappreciated District voter.
While attention is being lavished on all-important swing voters in Virginia's competitive presidential and U.S. Senate races, and with Maryland in the spotlight to possibly become the first state to have voters back marriage equality, the District is all but ignored.
Yet D.C. voters will be tasked with filling half of the seats on the 13-member D.C. Council, various School Board positions and more than 200 spots on Advisory Neighborhood Commissions.
Chief among these local races is a special election to determine the D.C. Council chair for the next two years. Facing off in that race is current Chairman Phil Mendelson (D-At Large) – selected by his Council colleagues to lead the legislative body after former Chairman Kwame Brown resigned amid scandal in June – and Calvin Gurley, a Democrat from Ward 4. John Cheeks, a former independent candidate for the Ward 5 Council seat, announced his candidacy but was later declared ineligible. Cheeks has nevertheless marshaled volunteers to attempt a write-in campaign.
Whatever attention the Council chair race may be getting, it won't be front and center on the ballot.
"The race appears on the back of the ballot, with the referendums," Gurley told Metro Weekly, referring to three proposed charter amendments that would, respectively, allow the Council to expel a member for "gross misconduct," and prohibit anyone convicted of a felony while in office from staying in office, or running for Council or mayor in the future. "I wonder how that happened."
Mendelson agreed that the special election for the chairman's seat, normally on the ballot in non-presidential-election years, has largely gone under the radar.