"My only concern is that people may not think my race is close, and may not realize it's important to vote," he said.
In addition to attending various political forums around the District, Mendelson has used his advocacy on behalf of the LGBT community to round up support from some of D.C.'s most politically engaged voters. He recently received the endorsement of the Gertrude Stein Democratic Club, the city's largest LGBT political organization, and was given a 10-point rating – the highest possible – by the Gay and Lesbian Activists Alliance (GLAA).
"I think, on LGBT issues, I've been a consistent supporter of the community," Mendelson told Metro Weekly. He pointed to his advocacy of marriage equality, including testifying multiple times in favor and moving the District's marriage-equality bill through the Judiciary Committee and to the full Council, where it passed on an 11-2 vote. He also touted his success in passing other measures that were designed to amend laws to establish parity between rights and responsibilities granted to same-sex couples and those granted to heterosexual couples.
While Gurley has criticized Mendelson and the other incumbent councilmembers for "lacking leadership," alleged ethical lapses and what he sees as failure to act on education, crime and jobs, Mendelson knocked Gurley for publicly criticizing him at a meeting of Ward 8 Democrats for his opposition to a referendum that could potentially repeal marriage equality in D.C.
Gurley, who ran for the Ward 4 Council seat against Councilmember Muriel Bowser (D) earlier this year, told the GLAA that although he would not vote to repeal the District's marriage-equality law, he did feel that voters should have had a chance to express themselves through the referendum process.
Regarding other issues particularly important to LGBT residents, Gurley told Metro Weekly that he would support more training for police officers related to LGBT cultural sensitivity and the reporting of potential hate crimes, and would recommend that Metropolitan Police Department Chief Cathy Lanier reassign more than 300 officers he says are on "desk duty" to the streets to combat crime. He also said he would support measures to help address bullying in schools.
Cheeks, in his campaign for the Ward 5 seat earlier this year, told Metro Weekly that as a Roman Catholic he supports the beliefs of his church and would have voted against the marriage-equality law. Cheeks expressed reservations about requiring police officers to take cultural-sensitivity training, citing costs.
Lateefah Williams, president of the Stein Club, said there is a perception that the race for D.C. Council chair is not highly contested, but that Stein members are fully committed.
"Our members know about the special election, and our community is very supportive of Phil Mendelson," Williams said.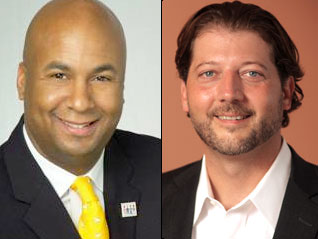 Michael A Brown and David Grosso
For other local races that will appear on the Nov. 6 ballot, Williams said most are not competitive, although the race for the non-Democratic, at-large Council seat will likely be a contest.
The at-large race features incumbent Councilmembers Vincent Orange (D-At Large) and Michael A. Brown (I-At Large); independent candidates David Grosso, A.J. Cooper and Leon Swain Jr.; DC Statehood Green Party nominee Ann Wilcox; and Republican nominee Mary Brooks Beatty. Orange, as the only Democrat in an overwhelmingly Democratic city, is widely expected to be re-elected by a large margin, but the remaining non-Democrat seat may feature a tighter race.
According to a poll commissioned by WAMU's The Kojo Nnamdi Show and The Washington City Paper, when Orange was omitted from the choices provided to likely voters, Brown held only a 5-point edge over Grosso – once a staffer for Congresswoman Eleanor Holmes Norton (D-D.C.) and former Councilmember Sharon Ambrose (D-Ward 6) – with Brown leading 26 percent to 21 percent. Beatty earned 9 percent, Cooper earned 7 percent, Wilcox earned 5 percent and Swain earned about 1 percent of the vote, while 32 percent of voters were undecided.
The remaining four Council seats up for re-election are those of Councilmembers Jack Evans (D-Ward 2), Muriel Bowser (D-Ward 4), Yvette Alexander (D-Ward 7) and Marion Barry (D-Ward 8). Evans and Bowser are unopposed, while Alexander faces off against Republican Ron Moten, and Barry faces a challenge from independent Jauhar Abraham.
District voters will also decide whether to re-elect Norton to Congress or opt for one of her challengers, Libertarian Bruce Majors, who is gay, or Natale Lino Stracuzzi, of the Statehood Green Party. Seats for U.S. shadow senator, U.S. shadow representative, various Board of Education races and local ANC commissioner seats – which feature a number of gay first-time candidates seeking office – are also in play. In the Board of Education races, longtime gay activist Philip Pannell is running for the Ward 8 seat, while gay ANC Commissioner Jack Jacobson (2B04) is running for the Ward 2 seat. While Jacobson is running unopposed, Pannell is racing against Trayon White. Stein Democrats have endorsed both Jacobson and Pannell. Stein Democrats also endorsed Democrat Nate Bennett-Fleming, longtime ally to the LGBT community, running for shadow representative against Statehood Green's G. Lee Aikin.
The LGBT Log Cabin Republicans endorsed the three Republicans appearing on the general election ballot: Moten, Beatty and U.S. shadow senator candidate Nelson Rimensnyder. All three have pledged that they would not support efforts to change, repeal or overturn the District's marriage-equality law.
Meanwhile, the Stein Democrats, in addition to endorsing Mendelson, endorsed Evans, Bowser and Orange for re-election to the Council, as well as U.S. Shadow Senator Michael D. Brown. The group withheld endorsements in the Ward 7 and Ward 8 D.C. Council races. A Stein Club meeting to consider an endorsement for the non-Democratic at-large D.C. Council seat was scheduled for Tuesday evening, Oct. 23, after Metro Weekly deadline. (A recap of that meeting is available online at MetroWeekly.com.)