MARYLAND MARRIAGE DOWN TO THE WIRE
With less than two weeks to Election Day, Maryland is awash in political ads, mostly focusing on several referendums asking voters to decide the fate of laws passed by the Maryland General Assembly earlier this year.
One referendum, Question 6, concerns the status of the recently passed Civil Marriage Protection Act, which allows same-sex couples to obtain state marriage licenses. The act was signed into law by Gov. Martin O'Malley, a Democrat, in March, but was designed to not take effect until Jan. 1, 2013, to provide for the possibility of such a referendum effort.
Maryland is one of four states – Maine, Minnesota and Washington being the other three – where voters will decide Nov. 6 to expand or restrict marriage equality.
Maryland's challenge in approving Question 6 and upholding the marriage-equality law is twofold: getting supporters, particularly liberal and moderate voters, to the polls, and winning more African-Americans to the "Yes on 6" side.
Unlike Washington state, which features a number of races at the presidential, congressional and gubernatorial levels, as well as a ballot measure legalizing and regulating small amounts of marijuana, which are expected to drive liberal, Democratic and youth turnout, Maryland is considered relatively uncompetitive except for seven different statewide referendums, meaning the likely electorate may skew older and more socially conservative.
While polling earlier in the year had shown strong opposition among African-American Marylanders regarding marriage equality, that opposition has lessened substantially in subsequent polls, particularly since President Obama and the national board of the National Association for the Advancement of Colored People (NAACP) endorsed marriage equality earlier this year. African-Americans are expected to constitute about a quarter of Maryland's electorate. Should Question 6 pass, Maryland will not only be the first state to legalize same-sex marriage at the ballot box, but it would also likely erode a strategy of framing marriage equality as an issue to divide the black community and the gay community, as anti-marriage groups have attempted.
Since July, polling has generally shown supporters of marriage equality with substantial leads, particularly among registered voters, where support for marriage equality has polled above 50 percent and its margin of victory has ranged from 8 to 14 points.
Among likely voters, an OpinionWorks poll for The Baltimore Sun in September found that 49 percent of likely voters in Maryland said they would vote to make same-sex marriage legal, while 39 percent would vote to make it illegal. The poll's margin of error is 3.5 percent. A Washington Post poll of likely voters in October showed that, after being asked questions that read similar to the language on the ballot, 52 percent of likely voters would vote in favor of Question 6, while 43 percent would vote against it. The margin of error for that poll is 4 points.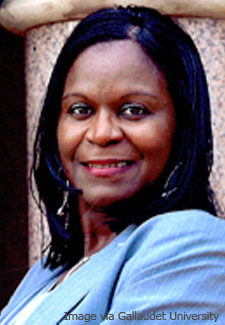 Angela McCaskill
(Photo via Gallaudet.edu)
With the polls expected to tighten heading to Election Day, supporters and opponents of Question 6 are flooding airwaves with advertisements of carefully crafted, poll-tested messaging aimed at swaying undecided voters or "soft" supporters. As such, any event related to marriage can be a flashpoint opportunity.
In one such incident, Angela McCaskill, a Maryland resident and the chief diversity officer at D.C.'s Gallaudet University, was placed on paid administrative leave after it was revealed that she had signed a petition to place the Civil Marriage Protection Act on the ballot. Opponents of marriage equality, including the Maryland Marriage Alliance and the Family Research Council, seized upon McCaskill's suspension as evidence that proponents of Question 6 were engaging in intimidation, and implied that the marriage-equality law would lead to more suppression of marriage opponents' basic rights. The Maryland Marriage Alliance went so far as to feature video clips of McCaskill in an ad against Question 6. McCaskill, regarded on campus as a strong supporter of the LGBT community, said she signed the petition to allow Maryland voters final say on the law, and has since asked that the anti-Question 6 ad featuring her not be aired.
Yet supporters of marriage equality were equally ardent in calling for McCaskill's reinstatement, with Marylanders for Marriage Equality taking out a full-page ad in Annapolis's The Capital newspaper asserting that McCaskill was fully within her rights to sign the petition. Josh Levin, campaign manager for Marylanders for Marriage Equality, a coalition of labor, religious and community groups seeking to approve Question 6, reiterated to Metro Weekly that McCaskill had a right to sign the petition and should be back on the job at Gallaudet.
The coalition, however, has plenty to do aside from asking that McCaskill be reinstated. Levin said the coalition has made hundreds of thousands of voter contacts through phone-banking and canvassing to convince people to vote for Question 6. He said Marylanders for Marriage Equality has worked hard to put together television ads that make the case in powerful ways.
One of the "Yes on 6" coalition's chief arguments has been that the law, in allowing same-sex couples to obtain state marriage licenses, continues to protect clergy and religious organizations from having to perform or recognize marriages that violate their religious beliefs. The ballot language specifically references those protections, providing what Levin calls a "full and fair description of what the law does."
Levin also knocked marriage-equality opponents for airing "misleading" ads, such as the one featuring McCaskill, that he said distort the issue.
"What Question 6 does is say that all people need to be treated equally under the law," Levin said. He also contrasted the nature of the pro-equality campaign with that of its opponents, pointing out that the National Organization for Marriage (NOM), the chief financial backer of the Maryland Marriage Alliance, doesn't disclose its donors and stated in an internal memo that one of its goals was to "drive a wedge" between the LGBT and African-American communities. By comparison, he says, Marylanders for Marriage Equality has received much more grassroots support, rather than relying on large sums of money from out-of-state organizations like NOM and the Knights of Columbus.
"We have over 950 pages of donors, most of them small donors," Levin told Metro Weekly. "We've raised more from Maryland residents than our opponents have raised in total."
To reach out to various communities within the state, Marylanders for Marriage Equality has adopted various strategies ranging from partnering with community organizations; to airing radio and television ads aimed at African-Americans, Catholics and voters on Maryland's Eastern Shore; to highlighting support for Question 6 among various interfaith leaders, Levin said.
"There's been a steady increase in support for marriage equality in Maryland over the course of the year," Levin said. "Naturally, the polls are going to tighten. We were never going to win by 9 or 14 points, or whatever the polls are showing. It's going to be a very close election, but we're confident we'll be able to uphold the new law."
But opponents are also busy trying to defeat the measure, sometimes resorting to racial appeals. One independent group called Jump the Broom for Marriages has been plastering fliers around African-American/racially mixed sections of Baltimore City that seem designed to exploit stereotypes that being gay is a white phenomenon, one that threatens the stability of black families.
Some fliers distributed by Jump the Broom in Baltimore's eastern neighborhoods feature a picture of a heterosexual black couple getting married, with the words: "If my mommy is my daddy, and my daddy is my mommy, what does that make my aunt?" Another version reads: "The Church Community Stands Against Same-Sex Marriages." Both fliers include biblical citations. A more recent flier, also distributed by Jump the Broom, features two scantily dressed same-sex couples – one male and one female – kissing and holding hands at what looks to be a gay pride parade. The flier reads: "Do not allow gay and lesbian couples to obtain a marriage license! STOP Gay Marriages in Maryland. Vote NO to Question 6."
The Maryland Marriage Alliance, as the chief group leading the repeal effort, has also been reaching out to voters, trying to argue that marriage equality will harm children and may lead to attacks on religious freedom and against those who oppose marriage equality.
Requests for an interview with Derek McCoy, president of the Maryland Marriage Alliance, were not granted by Metro Weekly deadline.
Although he declined to comment on the specifics of his coalition's "get out the vote" efforts, Levin said the number of volunteers has been growing.
"We need as many people as possible to volunteer," he added, pointing to several activities that the campaign has scheduled ahead of Election Day.
Several volunteers fighting for Question 6 also stressed the importance of getting involved and donating time to ensure that marriage equality becomes the law in Maryland.
Jason Gedeik, 37, of Silver Spring, said he became a volunteer after his husband, Evan Glass, an Equality Maryland board member, hosted a house party where state delegates spoke about volunteering. Gedeik said he was hesitant to volunteer as a phone-banker at first, largely because he was unsure of how he felt about phoning strangers and engaging them around a politically and socially sensitive issue. But he also felt it was important to do something to ensure equal rights for himself and his husband.
"I've had some really rewarding conversations with people where I was able to help them see the importance of granting the same legal rights to gay couples that straight couples currently have," Gedeik said of his experience.
Gedeik said he primarily focused on calling voters in Prince George's County, a vote-rich area in the D.C. suburbs considered one of the state's political "battleground" areas. He often received mixed responses from people he called, with some saying they felt uncomfortable sharing their opinions with a stranger, and others indicating uncertainty or conflicting feelings.
"That's when you realize you have a window to crawl through to them and you begin to engage in a conversation," Gedeik said. "I would read the entire wording of the ballot question. When they stopped to listen to the wording and about how the measure protects religious liberty and doesn't force churches to perform same-sex marriages, they really calmed down and felt more comfortable with the issue. Many said they would support the measure."
One woman that Gedeik spoke with asked him to tell her how to vote. Gedeik said he couldn't tell her that, but shared his personal story of his marriage to his husband, talking about real-world scenarios that affect gay couples when they are denied equal protection under the law. After hearing his story, the woman told him he had convinced her to vote for Question 6.
"When people understand that a vote against this measure will cause other citizens to suffer, a light bulb goes off in their head and their hearts begin to open," Gedeik said.
Khadijah Brown, 27, of Fort Washington, Md., said she became a volunteer phone-banker and canvasser after signing up on the Marylanders for Marriage Equality website. Brown said she has also focused her efforts primarily on Prince George's County, canvassing in the Laurel area. But Brown said she is particularly fond of calling voters.
"I really enjoy phone-banking," she said. "I enjoy reaching out to people and having a conversation, especially with people who have some apprehension about the law."
"For the most part, you get people who can hear you out, even if you agree to disagree," Brown said of the feedback she's received on those cold calls. But she notes that even in Prince George's County, once considered by pundits an area hostile to marriage equality, she's received positive feedback with about half of all contacts telling her they will vote for Question 6.
"Honestly, the toughest part is getting people on the phone," Brown said.
Brown, in a registered New Jersey civil union with her partner, with whom she is raising four children, said her efforts on behalf of the campaign can have her arriving home late, but said she feels like she is fighting for her family.
"I feel like I'm giving back," she said. "It's a phenomenal feeling."
She also said that other people from Maryland and the D.C. area should get off the sidelines and help the campaign with the final push into Election Day.
"Anyone who believes in fairness or equality should step out and do some volunteer work, even if it's only for the last week of the campaign," Brown said. "We've got to stand up for what we believe. If you're not using your voice and fighting for what you want, you have no excuse to complain when it doesn't work out in your favor."