With its nightmare-filled bank of jumbled TV screens – always on and always ready – Synetic's dance-theater interpretation of Jekyll and Hyde suggests mightily that there is something about the screens – and what's in them – that brings out the Hyde in the otherwise sweet Jekyll. Parallels to the young folk currently saturating themselves in online porn with its normalized air of violence, don't require much of a leap, balletic or otherwise.
But even with Synetic's integrity, specifically that of director Paata Tsikurishvili, this rendering of Hyde as sexual predator doesn't sit well. Of course, if the goal is to have us recognize our own potential for darkness – our perhaps subconscious feeding of the cycle – then leading us there with an edge of ambiguity in the blend of the sexual and the violent may seem the logical route. But this has been tried before and frankly, despite good intentions, it just ends up looking, at face value, like the very thing it deplores.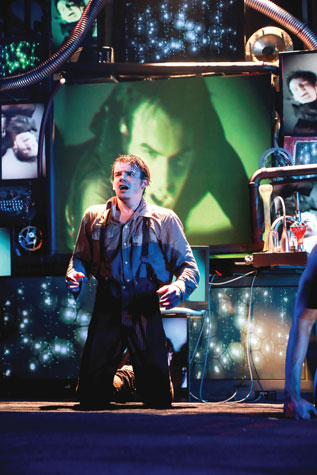 Jekyll and Hyde
(Photo by Johnny Shryock)
With half the world already confused and/or desensitized by the mix of titillation and violence delivered daily, from extreme websites to the covers of mainstream magazines, Synetic's graphic display in screen and dance of what triggers Hyde – the raw moves of a stripper – and what he later does to her – makes one sincerely wonder: How many of any given audience will be repulsed, how many "entertained," and what is there to be gained by either?
With so much else here that speaks with Synetic's usual clarity and vision, the answer is arguably nothing. Jekyll's internal battle and his pull and push with his imaginatively embodied demons are uniquely emotive and original. When Jekyll joins Hyde inside the screens, the interplay between Konstantine Lortkipanidze's music, Irakli Kavsadze's sound-inflected score and Irina Tsikurishvili's choreography is like brilliantly three-dimensional jazz. And Hyde himself is a riveting creature — a figment of darkest imagination. These are the kinds of things that engage intellectually as much as viscerally. Why not build on this originality and approach his conflict and violence with suggestion versus something akin to a reenactment from CSI: Victorian England?
Still, this is a star turn for Alex Mills, a regular with Synetic. With accomplished clarity and much detail, even if it must be writ large, Mills captures the two distinct sides of this man. Though it is a rather slow start in the laboratory, Mills works hard to set the mood and it pays off when events unfold into a tortured whirlwind. This is a perfect role for Mills, who, possessed of an especially lithe and flexible body, uses it with a keen sense of theater and artistry. He is Irina Tsikurishvili's vehicle and his understanding of her vision of shape, space and form – and the emotion it conjures – is consummate.
In the challenging role of the Stripper, Hyde's first and most horribly abused victim, Rebecca Hausman convincingly and effectively reflects a mix of the ruthless and vulnerable. Dancing with fluid strength, she is a joy to watch even if one cringes as her inevitable fate becomes reality. One cannot find fault with Irina Tsikurishvili's take on either the stripper's come-hither dance or her fight for her life, but, again, neither give us much more than "woman as object." On the upside, as anyone free of the fascistic body-typing of classical ballet will have discovered, a body with curves can move with spectacular beauty.
As Jekyll's increasingly bewildered fiancé, Brittany O'Grady mixes the sweet with the sensual and moves with a quiet, compelling grace. As Lanyon, Jekyll's friend, Peter Pereyra brings memorable presence.
So, as much as one can love aspects of this wildly imaginative foray into the dark side of the soul, there is plenty here not to love.
ALSO INCORPORATING music and dance, though as counterpoint and segue to the spoken word, is Trey Ellis and Ricardo Khan's Fly. A feel-good, carefully tempered look at the barriers overcome by the first African-Americans to fly combat for the U.S. military — the Tuskegee Airmen — this is, on first blush, a good bet for the tourists that usually find themselves in the hallowed space of the Ford's Theatre. A skillfully paced blend of humor, drama, simulated air battles and the evocative music of the '40s, there is nothing here that will offend and much that will entertain.
Yet, having said that, there is more to this play than meets the eye. Between the carefully structured highs and lows, Ellis and Kahn inject more than a little wit and more than a little ambivalence as these men banter and jostle their way into the cockpit. When the griot – the tap-dancer who transitions the scenes and provides a kind of percussive commentary – has his moments to dance, a most original and emotive power enters this play.
JEKYLL AND HYDE



To Oct. 21
Synetic Theater
800-494-8497
synetictheater.org
One can see why Ellis and Khan chose to keep it as accessible as possible, but it's hard not to wish for what the play could have been: something more visceral and challenging in its exploration of what these men felt about a country that only reluctantly gave them their chance, and toward each other as they struggled for identity in an unforgiving world.
And this ensemble — seamlessly cohesive and yet each bringing power and dimension to their characters – would have created alchemy with such material. Still, even within the play's limits, these are performances that leave one wanting to see far more of these actors on local stages.
As surviving pilot Chet Simpkins, whose memory brings the story, Christopher Wilson, with much nuance, captures the young self-made man from Harlem who, despite unimaginable hurdles, offers humor, joy and tender regard for others in all he does. Equally memorable are the diametrically opposed characters of W.W., the "player," and Oscar, the earnest. Smooth, confident and fully reveling in himself, Eric Berryman's W.W. is a memorable take on a familiar character. But it is to Berryman's credit that he captures, which much subtlety, the gradual revelation of W.W.'s canny intelligence and self-knowledge. Keeping it as far from stock as possible, Mark Hairston delivers excellent comic timing and much clarity to what Oscar sees as his mission. As the Jamaican-born J. Allen, Damian Thompson may struggle a bit with the accent, but he rounds out the ensemble with an entirely different perspective on race and identity with well-delivered humor and much charisma.
FLY



To Oct. 21
Ford's Theatre
202-347-4833
fordstheatre.org
Thinly written, the white men here – all military in the form of instructors, colleagues or bestowers of honors – serve mainly as foils and plot-movers. As Captain O'Hurley, James Konicek's stiff presentation keeps his man more cardboard than real, which doesn't hurt but also doesn't help. As airmen Shaw and Reynolds, who come in for a bit of ribbing by their Tuskegee counterparts, Matt Bassett and Clark Young (among other roles) do their comic best, but not much can save this anomalous scene taht seems to have been thrown just in case the play's otherwise-sophisticated wit alienates anyone.
As the griot, tap dancer Omar Edwards brings a blissfully unbounded and unpredictable intensity to his moments and, in many ways, it is his presence – sad, happy, angry or wistful – that truly engages the imagination and the intellect. As the play marks the men's achievements with periodic flag-waving and a dance number – it is Edwards and the ensemble that fill these moments with vigor, defiance and heartbreaking pride versus schlock.