It's tough being a Mac.
If you're not struggling to be an OSX device in a Windows world — a world set to become even bigger on Friday — you're facing increasing indifference from your creator as they pursue a post-PC agenda while PCs remain firmly in demand. Yesterday's launch of the iPad Mini and iPad refresh greatly overshadowed what was arguably the better launch from a hardware standpoint — that of Apple's Mac line-up.
If you were unaware of a new Macbook Pro, a new iMac, and an updated Mac Mini, it's not your fault. Apple all but rushed their announcement in its eagerness to launch the underwhelming iPad mini, and that seems unkind treatment for some rather tasty slices of Apple hardware.
First up, continuing the day's theme, we have a new smaller sibling for the 15-inch MacBook Pro, with a 13-inch model now part of the family. Sporting a new Retina display, rated at 2560×1600, it slightly trumps its older brother's pixel density, with a PPI of 232, compared with the 15-inch, 2880×1800 laptop's 228 PPI, though it has "just" 4 million pixels as opposed to 5 million on the 15-incher. Also included are 2 Thunderbolt ports, 2 (more useful) USB 3.0 ports, a full-size HDMI port, and a choice of Core i5 and i7 CPUs. It also features a new, slimmer design, and at just over 19mm thick is 20 percent slimmer and 1 pound less than the current 13-inch model. The base configuration will offer a 2.5GHz Core i5, 8GB of RAM and 128GB of flash memory for $1,699, with 256GB of storage going for $1,999. Potential purchasers can specify greater storage — up to 768GB — and a faster, Core i7 CPU, albeit at a premium. The 13-inch Pro is available now online and in-store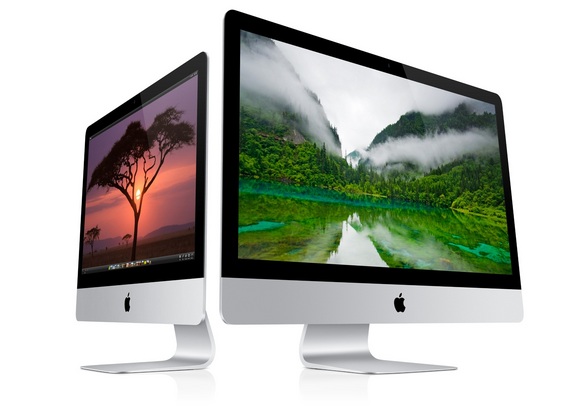 The iMac received a much welcome hardware refresh, with a slimmer design and new Ivy Bridge internals. The first such design change in 3 years, the new iMac is still the same basic design that we've come to know, but now with a far more slender silhouette. It now tapers from the traditional bulge at its hinge to just 5mm around the edges, echoing the trend of high-end TVs which are becoming similarly anorexic. It's not perfect, as the slim effect is ruined when viewed side-on or from the rear, but from the front it fools viewers into thinking the whole machine is as wafer-thin as its edges. There's sadly no Retina update this time around, with the 21.5-inch model settling for a 1920×1080 screen, and the 27-inch version enjoying a 2560×1400 resolution — less than the 13-inch MacBook Pro, but still perfectly acceptable. Helping matters is the new gapless, laminated glass, which helps to reduce glare. Both models feature HD cameras and dual microphones, and internals include NVIDIA GeForce graphics, up to 32GB of RAM, up to 3TB of hard-drive storage or 786GB of solid-state storage, or Apple's take on the hybrid drives popular in Windows machines, here called Fusion Drive, which combines an SSD and hard-drive to aid system speed but still provide plenty of space.
One thing missing is an optical drive, which could make it tough to recommend for those of you who use an iMac as a TV as well as a desktop, but USB solutions can be used — although the additional premium feels unfair, given the iMac's already considerable price. The 21.5-inch model with a 2.7GHz Core i5, 8GB of RAM and 1TB hard drive costs $1,299. The 27-inch model starts at $1,799 with a 2.9GHz i5 and the same RAM and storage space, with configuration options available for both to increase CPU, RAM and storage. The smaller iMac is available in November, with its big brother following in December.
Apple's curious Mac Mini desktop is also on the receiving end of a refresh, with new i5 and i7 Ivy Bridge processors under the hood. The 2.5GHz i5 model has 4GB of RAM and a 500GB hard-drive, while the 2.3GHz quad-core i7 version has the same RAM but dual 1TB hard-drives. RAM can be increased to 16GB, and a 256GB SSD is available. There are 4 USB 3.0 slots, an SD and SDXC card reader, Gigabit ethernet, a Thunderbolt port, FireWire port, HDMI out and Bluetooth 4.0. Graphics come courtesy of Intel's HD 4000 GPU, and unfortunately cannot be upgraded. The i5 models start at $599, and the i7 starts at $999, with both available now in-store and online.
Sadly, those hoping for a Retina Air will have to wait, as the Retina displays seem reserved for Pro models for the time being, and Apple continue to remain silent on when the Mac Pro desktops will be refreshed — or if they will be, as they sat out this year's product cycle.
All-in-all, though it's a very familiar, very Apple refresh. New internals, revised externals, and the same sky-high premiums for its hardware — although, at least with the Macs, said premiums feel warranted. That Apple launched a Retina-equipped MacBook Pro with little fanfare, and then devoted most of its announcement to a smaller iPad with specs that were dated a year ago is pretty damning of the company's pulled focus from its PC line-up. As it moves users into its "post-PC" world, it seems quick to forget that PC users are its core fanbase, those loyal customers who refrain from the Windows mainstream and instead pay the premiums for Apple's OSX, which is still an underling in terms of market share.
These new Macs do little to change things — devoted users will flock to the new iMacs and MacBook Pros, but those looking for a new laptop or desktop will likely wait for Friday's announcement, and the inevitable glut of Windows 8 hardware that it brings. Much like the refresh of the iPad, these Macs feel more like a stop-gap to take news focus away from Redmond's latest OS launch, which in itself cheapens what is otherwise an excellent family of computers.
Get Technocrat in your inbox. Join our mailing list.