Maryland state Del. Kathy Afzali (R-Frederick Co.) turned up the heat against Question 6 Oct. 24 in email blast to her constituents.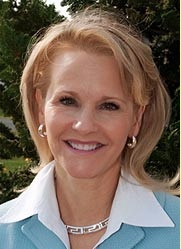 Her letter, aimed at convincing Maryland voters to reject Question 6 – the referendum to uphold the Civil Marriage Protection Act – urged those leaning in favor of marriage equality to "read my opposing arguments." Many of her "arguments" are talking points used in commercials by the Maryland Marriage Alliance (MMA), and in other states by the National Organization for Marriage (NOM), the chief funder of MMA. They include disparaging gay parents, race-based arguments and implying homosexuality is a choice.
Afzali, who represents a district that encompasses northern Frederick County, said in the letter that she voted against the Civil Marriage Protection Act in the Legislature because it would "strip the roles of men and women from marriage, making it a 'genderless' institution."
Afzali argued that "it is not necessary to redefine marriage in order to provide benefits to same-sex couples," pointing to benefits that are granted to domestic partners, such as health care facility visitation, health care decision-making, the ability to adopt children, and health benefits for state employees as evidence for her claim.
Afzali's letter also echoed debunked NOM and MMA arguments by providing links to stories, articles and purported "scientific" studies that claim, among other things, that same-sex marriage will be taught in schools, that Question 6 infringes on religious liberty because it does not allow businesses to violate Maryland's existing nondiscrimination law by denying services to LGBT people, that "redefining marriage" places adults' desires ahead of children's needs, and that women who grow up with gay or bisexual fathers are incapable of intimacy and are "less able to trust and depend on others."
Afzali also complained in her letter that several amendments offered by Republicans to weaken the marriage-equality bill's chance of passage – including one she proposed that would have allowed parents to exempt their children from any sex education curriculum that references homosexuality – were rejected by the General Assembly. She claimed that the passage of such amendments "would have made the bill more palatable to the opposition."
At the time Afzali proposed her amendment, Del. Kathleen Dumais (D-Montgomery Co.) countered that it was unnecessary as such protections already exist, including requirements that all sex education must be age appropriate and requires parental notification.
Afzali also dismissed the idea that there was discrimination against LGBT people, writing, "Discrimination is understood as the unjust denial of basic human rights to a certain person or group. Those supporting same-sex marriage compare the discrimination of homosexuals to the civil rights movement. In truth, homosexuals have the freedom to live as they choose."
Afzali's point on discrimination repeats arguments used in other states that have faced ballot measures on marriage equality. It also appears to exploit racial divisions, in line with NOM's stated goal of "driving a wedge" between blacks and gays.
Maryland for All Families, a group of LGBT conservatives and libertarians promoting Question 6 among right-leaning constituents, helped bring attention to Afzali's letter beyond her district by circulating an online link to it.
Proponents of Question 6 are also ramping up efforts as Election Day nears, releasing two more ads in this final week of the campaign – one aimed at undecided and white working-class voters in the Baltimore suburbs, and another that refutes claims made in one of MMA's commercials, "Parents Have No Rights," that gay marriage will be taught in schools.
The first commercial features former Del. Todd Schuler (D-Baltimore Co.), a one-term representative ousted in 2010's Republican wave, whose district encompassed eastern Baltimore County's working-class areas of Parkville, Overlea, Perry Hall and Rosedale.
In the commercial, which shows Schuler at what looks to be a neighborhood barbecue with friends, the former delegate tells viewers: "The way I see it, everyone knows someone who's gay. Maybe they're across the table from you at Thanksgiving. Maybe they're playing third for the office softball team, whatever. Why wouldn't we vote to treat them equally? And that's all Question 6 is. Everyone should be free to commit to someone they love, and I'm not going to be the guy who looks his friends in the eye and tells them I voted against treating them fairly. That's why I'm voting for Question 6."
The second commercial is a direct response to an ad featuring David and Tonia Parker of Lexington, Mass., airing in Maryland, Maine and Minnesota – and previously aired in California during the fight over Proposition 8, which took away the existing right of same-sex couples to marry – which all face ballot measures involving marriage equality. The Parkers have become known as activists against gay rights because of a lawsuit they filed – and eventually lost – accusing the Lexington school their son attended of "indoctrinating" him to believe that same-sex marriage is not abnormal. The Parkers' ad, as run in Maryland, claims that same-sex marriage will be forcibly taught in schools if Question 6 passes, and that parents will not have an opportunity to prevent their children's participation.
Marylanders for Marriage Equality, the pro-Question 6 coalition, has an ad featuring Maryland public school teacher Pamela Gaddy countering the false claims – which have since been debunked by the fact-checking site Politifact – in the Parkers' ad.
In the commercial, Gaddy says, "You've probably heard the opponents to Question 6 saying, 'Gay marriages will be taught in schools.' Well, it's not true. I've been a teacher for 16 years, and I know. Question 6 has nothing to do with what's taught in a classroom."
Gaddy continues, holding up the text of the Civil Marriage Protection Act, saying: "Here's the law. You can look it up for yourself. Nothing about changing the curriculum. So take it from a teacher like me. Values are taught at home. Not in my classroom."
Recent polls of Question 6 have varied depending on the pollster. A Baltimore Sun poll found that 47 percent of Maryland likely voters say they would vote to make same-sex marriage illegal, versus 46 percent who would vote to make it legal.
But a Washington Post poll of likely voters showed Question 6 leading by a 52-43 margin. And a Goucher College poll of Maryland residents showed that an overwhelming majority of residents are supportive of same-sex marriage, but noted that those same people do not necessarily constitute "likely voters."
[Photo: Del. Kathy Afzali, from the Maryland House of Delegates website at msa.md.gov]