With the ball back in their court, marriage-equality advocates fighting for Question 6, the ballot measure that would allow gay and lesbian couples to obtain civil marriage licenses in Maryland, are moving forward with various media strategies.
Marylanders for Marriage Equality, the coalition of labor, religious and grassroots community organizations seeking to approve Question 6, have released two television ads in the Baltimore media market. The ads feature two African-American Baptist ministers, Rev. Donté Hickman and Delman Coates, speaking of their support for the ballot measure.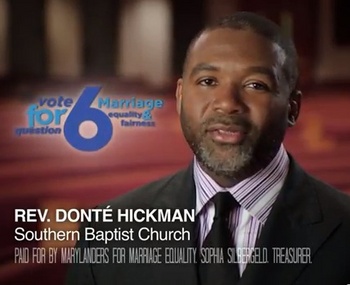 Hickman's ad says: "As a pastor, my support for Question 6 is rooted in my belief that the government should treat everyone equally. I wouldn't want someone denying my rights based on their religious views, so I shouldn't deny others based on mine. It's about fairness. I support this law because it doesn't force any church to perform a same-sex marriage if it's against their beliefs. And that's what this is about: protecting religious freedom and all Marylanders equally under the law. Join me in voting for Question 6."
Coates follows a similar script and makes similar points in his ad.
Both ads are aimed at swaying African-American voters, particularly those who identify as religious, and trying to convince them not to oppose Question 6. African-Americans are expected to make up a quarter of Maryland's likely votes in November.
The television ads hit Baltimore airwaves Wednesday morning, Oct. 10, a day after radio ads featuring National Association for the Advancement of Colored People (NAACP) chairman emeritus and longtime civil rights figure Julian Bond began airing in the Baltimore and Washington areas as part of the pro-Question 6 campaign.
In a bit of bad news for supporters of Question 6, a spokesman for Marylanders for Marriage Equality sent a fundraising email Tuesday, Oct. 9, telling supporters the campaign did not yet have the money needed for TV advertising in the more expensive Washington media market. Opponents of Question 6 began airing their ads on Washington-area television stations Monday, Oct. 8.
At the same time, the Marylanders for Marriage Equality coalition has been attempting to reach out to other key constituencies, including Catholics and voters from the Eastern Shore. The coalition has released ads featuring the Nugents, an Eastern Shore Catholic couple who are supporting Question 6 because of their experience with their gay son, and with Catholic Baltimore City Council Member Bill Cole, who addresses other Catholics, telling them that Question 6 does not interfere with their religious faith.
Supporters of Question 6 have also tried to increase their visibility by engaging outside groups and student organizations at universities throughout Maryland. Recently, several people affiliated with the pro-equality side held signs and demonstrated outside an event where the co-chair of the anti-gay National Organization for Marriage (NOM), Maggie Gallagher, and Del. Keiffer Mitchell Jr. (D-Baltimore City) debated marriage equality before an audience at Morgan State University, a historically black university.
The coalition also has a rally planned for today at 4 p.m. at the University of Maryland at College Park featuring U.S. Sen. Ben Cardin (D), Del. Heather Mizeur (D-Montgomery Co.), state Sen. Rich Madaleno (D-Montgomery Co.) and Del. Luke Clippinger (D-Baltimore City).