Angela McCaskill, the chief diversity officer at Gallaudet University who was placed on paid administrative leave for signing a petition calling for a referendum on Maryland's marriage-equality law, is being featured in a new ad against the referendum, known as Question 6, which if passed will allow Maryland's marriage-equality law to take effect.
The ad, produced by the Maryland Marriage Alliance, the chief group trying to overturn the marriage-equality law, features pictures of Gov. Martin O'Malley (D) signing the marriage-equality bill into law and screenshots of commercials by the pro-equality Marylanders for Marriage Equality coalition that feature the Revs. Donte Hickman and Delman Coates. The images then switch to video of McCaskill at work at Gallaudet, followed by pictures of a vandalized Chick-fil-A restaurant in California and of people outside Maryland who claim to have been "wronged" in some fashion by marriage-equality laws.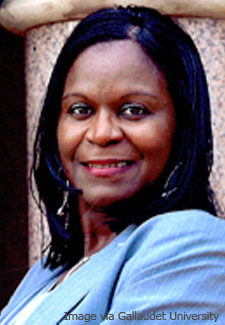 Angela McCaskill
(Photo via Gallaudet.edu)
A voiceover for the ad reads: "They promised us Question 6 protects people who oppose gay marriage. But it doesn't. Dr. Angela McCaskill is an official at Gallaudet University. She signed the petition putting Question 6 on the ballot. Then she was suspended from her job. She's not alone. When marriage has been redefined elsewhere, as Question 6 does, people who believe in traditional marriage have been punished. They were threatened; he was fired; they were sued. Who will be next? We're all at risk under Question 6."
Supporters of Question 6 have warned that a major strategy typically employed by the anti-gay National Organization for Marriage (NOM), a primary funder of the Maryland Marriage Alliance's anti-Question 6 efforts, is to convince voters that legalizing marriage equality will unforeseen, dire consequences.
Although Gallaudet President Alan Hurwitz has already said he'd like McCaskill to return to work, in a statement announcing the new ad Derek McCoy, president of the Maryland Marriage Alliance, urged McCaskill's reinstatement and blasted the decision to place her on administrative leave as "offensive and a further attack on the democratic process."
"Our alliance of diverse stakeholders across the state have warned Marylanders about the religious liberties and individual rights that are compromised if same-sex marriage is made law," McCoy said in the statement. "Homosexual activists continue to cry that individual and religious liberties are not at risk. The suspension of Dr. McCaskill is proof of the disingenuous and untruthful nature of that argument."
In response to McCoy's accusations that the law will "punish" or penalize religious people, supporters of marriage equality point to the explicit and precise language on the ballot providing certain religious protections and exemptions for religious institutions and clergy.
As it appears on the ballot, Question 6 reads, in part: "The Civil Marriage Protection Act … protects clergy from having to perform any particular marriage ceremony in violation of their religious beliefs; affirms that each religious faith has exclusive control over its theological doctrine regarding who may marry within that faith; and provides that religious organizations and certain related entities are not required to provide goods, services, or benefits to an individual related to the celebration or promotion of marriage in violation of their religious beliefs."
Marylanders for Marriage Equality, which criticized Hurwitz's decision to place McCaskill on leave and immediately called for her reinstatement, took out a full-page ad in Annapolis's The Capital newspaper to that effect.
The ad reads: "We condemn the suspension of Gallaudet University's Dr. Angela McCaskill last week. She should be reinstated immediately. Unfortunately, opponents of marriage equality are trying to make what happened to Dr. McCaskill about Question 6, the November ballot measure that will allow gay and lesbian couples to get a civil marriage license and protects religious freedom.
"But her suspension from a D.C. university has nothing to do with Question 6 in Maryland. It does, however, have everything to do with being able to express one's opinions freely, and participate in the political process. As an American, Dr. McCaskill has every right to her view on marriage – and that includes signing the petition to put the issue to a public referendum. Question 6 is about fairness and equality under the law, and it's only fair Dr. McCaskill get her job back."
McCaskill, assisted by her lawyer and an interpreter, held a press conference in Annapolis Oct. 16 during which she blamed her suspension on two lesbian faculty members – Martina "MJ" Bienvenu and Kendra Smith – whom she called "extremist faculty" and "a few rotten apples" and who, she alleged, were responsible for filing a complaint against her with the university, according to The Washington Post.
Bienvenu and Smith responded in a statement to local television station WJLA, Washington's ABC affiliate, saying, "At this time, we would prefer this matter be a discussion between the University and Dr. Angela McCaskill."
In her press conference, McCaskill described Gallaudet as a university of intolerance that fosters intimidation and bullying among faculty and students. In spite of this, McCaskill also said she would like to be reinstated.
Her lawyer, J. Wyndal Gordon, later told the press McCaskill would likely only return to work if the university compensates McCaskill for emotional distress she endured, along with the damage to her reputation, The Washington Post reports.
Prior to McCaskill's press conference, Hurwitz sent a message to the Gallaudet community saying he would like to work with McCaskill so she can return to her position as chief diversity officer.
In a Tuesday one-on-one interview with WJLA, McCaskill later told reporter Mike Conneen that she's not anti-gay and that she feels bullied.
"Signing that petition is a right that I have as a citizen of the state of Maryland," McCaskill said. "It simply means that I want to see this very sensitive issue put on the ballot as a referendum in the state of Maryland."
Gordon told WJLA that McCaskill has not ruled out taking legal action against the university.
UPDATE, THURSDAY, OCT. 18, 5:48 PM:
Following the release of the Maryland Marriage Alliance's advertisement, Gallaudet University asked the group to take down the commercial featuring McCaskill, claiming that the video of McCaskill is Gallaudet's intellectual property and is copyrighted by Gallaudet, according to The Baltimore Sun.
In response, a spokeswoman for the Maryland Marriage Alliance told the Sun the group had not heard any formal complaints about the ad and has no intention of pulling it from the airwaves.
McCaskill's lawyer, J. Wyndal Gordon, said McCaskill had not agreed to be featured in any advertising for or against Question 6, noting that McCaskill's decision to sign the petition calling for a voter referendum was not indicative of her position on marriage equality.
Gordon later told television station WJLA that if McCaskill "had her druthers," the commercial would be pulled.
Marylanders for Marriage Equality also issued a statement blasting the television ad's claims and pointing out McCaskill's objection to it.
"Our opponents' attack ad is full of deceptive and false claims," Josh Levin, campaign manager for Marylanders for Marriage Equality, said. "And they are exploiting Dr. Angela McCaskill – who should be reinstated immediately – and are making the situation worse for her. Our opponents should leave her alone. She did nothing wrong and she has even requested the ad be pulled off the air."