The Capital Area Gay and Lesbian Chamber of Commerce (CAGLCC) is focusing on its "capital area" description more intently with the creation of a new program featuring Virginia-based networking events. CAGLCC board member David Rowley and member Rick Reinsch, owner of Digital Recollections, are spearheading CAGLCC VA, a new program under CAGLCC's Core Events umbrella.
Why the expansion into Northern Virginia? Rowley says the chamber's board has heard from Virginia-based members that they often find it impossible to get into the District for events. "We've heard from some members who believe we are 'capital area' in name," he notes, "but not often in practice. Our goal here is to be more accessible – offering participation without having to cross the bridges, especially during rush hour."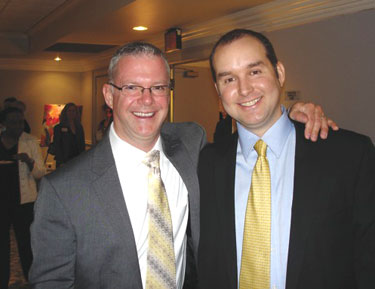 Rick Reinsch and David Rowley
(Photo courtesy David Rowley)
Reinsch adds that although these events will be in Virginia, "all members – whether from D.C, Maryland or Virginia – will be welcome. We also hope the Virginia members will bring friends and colleagues who've yet to participate in a chamber event."
Sponsored by Malvin, Riggins & Company, CAGLCC VA's Launch Event will be held at Bloomingdale's Tysons Corner on Tuesday, Oct. 23, from 6:30 to 8:30 p.m. – and it's a must for anyone looking to get an early start on holiday shopping. Almost everything in the entire store will be 15 percent off for all guests of CAGLCC VA and 10 percent of the proceeds will be donated to CAGLCC. Bloomingdale's will offer both libations and light fare. Look for a special registration desk in the store that will let you show your chamber affiliation.
As Rowley describes, "Our Virginia events will feature a format that will be just like a Networking Thursday. They will be great opportunities to meet other chamber members and find new business opportunities — and it's free to chamber members and their guests. Just like the holiday event we've had previously at Bloomingdale's, we hope everyone will bring a group with them."
Because of the chamber's "g.life" event on Nov. 17, the next CAGLCC VA event will be a holiday event on Tuesday, Dec. 18, at the Sheraton Pentagon City, 6:30 to 8:30 p.m. Located on Columbia Pike near the Pentagon Metro (shuttle available), the Sheraton is completing a multimillion-dollar renovation the staff will unveil at this event. Both CAGLCC VA events in 2012 will be free for members and non-members. Starting in 2013, CAGLCC VA events will be free for members only.
"We want to showcase businesses that are new and or exciting in the Northern Virginia area, but our primary goal is to create events that will allow GLBT business owners to connect with one another," says Reinsch. "You'll have a good time and build your business network."
For more information on CAGLCC VA and the Oct. 23 Launch Event, visit caglcc.org/vabloomingdales. If you have a venue that would be ideal for a CAGLCC VA event, contact the Chamber by sending an email to Executive Director Mark Guenther, mguenther@caglcc.org.
CAGLCC, recipient of the NGLCC Chamber of the Year Award, means business. For more information, visit 'caglcc.org'.
Robert E. McLean, a CAGLCC member, owns REM Association Services, a full-service association management company in Arlington.
Don't miss g.life on Nov. 17: One Day in DC, All Things LGBT. To register online, visit 'g-lifeexpo.com'. Registration is free and open to all.