Meshell Ndegeocello isn't living in the past. She says the present is far better.
"I was reading the Nina Simone [autobiography] I Put A Spell on You," the R&B/funk singer-songwriter says. "People during the Civil Rights time had fire hoses sprayed on them, [they] were shot and murdered. I never even pretend that I could imagine what it would be like to live in that sort of energy, an energy of death and violence."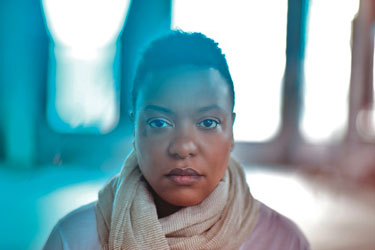 Meshell Ndegeocello
(Photo by Charlie Gross)
So while Ndegeocello's new album pays tribute to the late, legendary Simone, it's time-stamped very much in Ndegeocello's here and now. Pour Une Ame Souveraine: A Dedication to Nina Simone offers a selection of songs Simone either wrote or performed, including "Feeling Good" and "Don't Let Me Be Misunderstood," but revamped in Ndegeocello's generally brooding, lower-register contemplative style, which can take a couple listens to fully appreciate.
"I wanted to carry on her [legacy]," says Ndegeocello. "What she did so well was take standards or songs from writers and make them her own [so they] become the definitive version. … You have to put something of yourself into it."
This Sunday, Oct. 14, the New York-based Ndegeocello will launch a national tour featuring her Simone covers at a hometown venue, the Howard Theatre. Raised as Michelle Lynn Johnson, Ndegeocello adopted her Swahili last name at the age of 17 while living in D.C. during what she calls a "moment of black radicalism – just a moment of rebellion. Obviously I didn't choose it to make my life easier," she quips. But even with a difficult name Ndegeocello has charted a heralded career also notable for its genre-defying variety: from a start in D.C.'s go-go scene, to breakthrough neo-soul/hip-hop recordings on the Madonna-founded label Maverick Records, to collaborations with the Indigo Girls, the Rolling Stones and quirky British dance duo Basement Jaxx, to name but three.
In many ways, Ndegeocello's divergent path through the many valleys in music echoes Simone's own. Surely Simone would have liked the message of the bisexual Ndegeocello's essay included in the LGBT-affirming book It Gets Better. "If you live your life for what other people think of you, it's just really difficult; you're like a slave to how they feel," she sums up what she wrote. "It just takes time to become comfortable in yourself." '
Meshell Ndegeocello performs Sunday, Oct. 14, at 8 p.m., at The Howard Theatre, 620 T St. NW. Tickets are $30 in advance, or $35 day-of show. Call 202-588-5595 or visit thehowardtheatre.com.