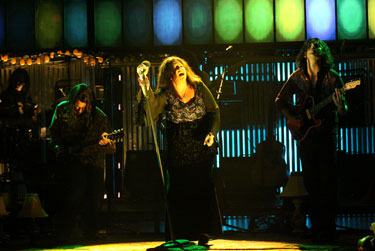 With his sweet, calm Scottish terrier lounging nearby, Johnson talked to Metro Weekly about a show he says is "probably the most personal, because I get a lot of my philosophy into it too."
METRO WEEKLY: How did the show One Night with Janis Joplin come to be?
RANDY JOHNSON: Two years ago I was approached by Jeff Jampol, who manages the Joplin estate. He asked if I wanted to meet the Joplin family, with the idea that they wanted to do another show. A lot of the stories that you hear in the show they told me that day. The housecleaning story [where the three Joplin kids would clean while performing to West Side Story, with Janis playing all of the supporting roles]. And her sister Laura told me about Janis's influences. And that was the most intriguing part to me. I started doing research, and Laura and Michael [her brother] sent me material on Janis. And they sent me some of her writings.
The other thing that intrigued me, which I didn't know, is that she was an artist, that she painted. And she had designed all of her own stage clothes. She was actually totally in control of her career, which was not my impression of Janis. It was of just this woman who sang her ass off, and just kind of happened. And I realized it didn't just happen. She became famous at a time when it wasn't easy to become famous. She simply did her thing and audiences were drawn to her, she was drawn to the audiences. There was no contrivance about her. She simply just told the truth.
MW: So the dialogue, the things that Joplin says in the show, a lot of that came from your initial discussion with the family?
JOHNSON: It's based on Janis's words. I vetted everything through Laura and Michael, to be sure that I was being true to Janis's thoughts, and her way of thinking and speaking. I just pored through the interviews. And so everything in the show is based on the truth. There's no revisionist history.
The show has grown over the past three productions. But from the first night I knew we had a hit, something special. It launched at Portland Center Stage in Oregon around Easter 2011. And it ran for six weeks and sold out. Forty thousand people saw the show. The repeat business was extraordinary, which is always a sign that you have something special. And then we played Cleveland – we did 24 performances in Cleveland about six weeks ago. And now we're here at Arena.
MW: How did you pick the songs that weren't Joplin's that factor into the show? Those that were, say, Nina Simone's or Aretha Franklin's?
JOHNSON: When I was a kid growing up in Culver City, Calif., one of the first albums I heard was Cheap Thrills. I didn't listen to "Bibbidi-Bobbidi-Boo," I didn't listen to Disney. The first record I remember hearing was Dave Brubeck. I grew up listening to – really listening a lot to – Nina. Just another authentic voice that just hit me hard.
And there was that Aretha Live at the Fillmore West album, which had "Spirit in the Dark" on it. I remember buying it at Woolworth's when I was a kid. And that's another song I played over and over again. What hit me was that Janis's journey was somewhat of my musical influences. There's a very parallel universe for me. I always loved "Spirit in the Dark," so when I was trying to find the finale of Act 1, I had it in my car stereo and it came on. I thought, "This is it." I'm going to construct a duet with Aretha and Janis and tear the house down.
MW: The two of them performing never happened in real life, did it?
JOHNSON: That did not happen. They knew each other. It was amazing who Janis knew.
MW: I didn't grow up with Janis Joplin. I grew up more with Aretha, and then discovered Nina Simone in college. Janis, I never really got her until this show, ultimately, because you've put her in context.
JOHNSON: I find that a lot with people. That she was kind of inaccessible to a certain generation.