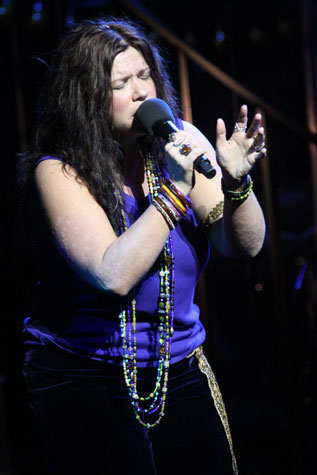 MW: Switching gears, I wanted to ask you, how did you end up working with Pope Benedict XVI? What was all involved in that?
JOHNSON: I've always done spectacles. I've been very lucky in my career to do political events and do these huge massive, Olympic-scale things. The producer of Elvis, who is a very dear friend of mine, Stig Edgren, called and said, "I'm producing the papal visit. Would you like to direct it?" And I was like, "Okay!" It was an extraordinary experience. I staged a four-hour concert prior to the holy father's appearance, and then staged the College of Cardinals and then the papal Mass and then his entrance. I actually got Kelly Clarkson to sing "Ave Maria" to the pope, which was an extraordinary experience. It was amazing. You actually felt a different energy from him. I've worked with a lot of rock stars and a lot of superstars, but I've never heard a crowd or seen a crowd respond the way they responded to him.
MW: Did you grow up Catholic?
JOHNSON: No. Most of my family was Southern Baptist. I never connected to organized religion.
MW: But you knew all about pomp and circumstance?
JOHNSON: Yes, I knew spectacle. At the end of the day, it's all theater. That's the thing. Whether you're working with Princess Diana or the pope or the Clintons, or whoever – it's all spectacle, it's all theater. Even picking his theme music, and when the "popemobile" comes around – everything was staged.
MW: Another one of your shows, Elvis Presley In Concert, how does that compare to One Night with Janis Joplin?
JOHNSON: Fifteen years ago we were going to do a 20th anniversary of Presley's death, tribute concert. The late Todd Morgan of Graceland said, "I've always wanted to do an interactive concert." So instead of having a bunch of stars singing Elvis songs, we created a virtual Elvis concert, where he's on 30-foot screens. The only thing that's not living on the stage is Elvis. Everything is live – it was his original backup singers, original band. A 90-piece orchestra. And his voice and his image. You're of the illusion that you're at an actual Elvis concert.
We sold out Radio City for three nights. We hit the Guinness Book of World Records for the most successful tour performed by a deceased artist. And every significant anniversary we get together. I just did it in August.
The difference is, I call that virtual theater. And this show is musical theater.
MW: Was the Guinness title created specifically for the Elvis show? Have their been others like it before?
JOHNSON: I think we were the first. [Laughs.] I don't think there's a lot more.
MW: There's also a similarity between the two artists, Joplin and Presley, in that they're both white artists working in what was – in their time, at least – an African-American art form.
JOHNSON: Absolutely. Elvis was influenced by Muddy Waters, and significant African-American artists. I don't think Elvis would have happened, as Janis would not have happened, without the blues, without gospel. They both sat in gospel churches and listened to the form. So they were kind of on the same path. And I believe they actually met at one point. I'm not sure the story, but I know that they crossed paths.
MW: Among all the people you've worked with, who surprised you the most, either good or bad?
JOHNSON: I've really liked everyone I've worked with. I loved Joni Mitchell. Carly Simon was another one that I really, really liked. Streisand had a very great sense of humor. She was incredibly kind.
MW: Not difficult?
JOHNSON: No, never. It's a myth, as far as I'm concerned. She's just a pro and expects everyone around her to be a pro. And there's a reason she survived 50 years in this career. But she's a very kind woman.
MW: What do you think of today's pop landscape? You mentioned working with Kelly Clarkson.
JOHNSON: I love her.'
MW: Are you seeing anyone of Joplin's caliber today?
JOHNSON: I think Adele is the real thing.
MW: I was going to ask you about her.
JOHNSON: Yeah, she's the real thing. She's just a broad doing her thing, living her life, and that album [21] – the truth in that album is amazing. Those songs come from the truth! And I'm not putting anybody down, because there's an audience for everybody. But when you listen to Adele? Oh, my God. I don't connect with Madonna, but I understand why she connects with millions of people. And I respect her career, what's she accomplished. It's not my musical thing. But Adele….
I rarely listen to pop music. I think Beyoncé's great. She's a great showperson too. And I do like Celine Dion. [Laughs.] I do, I have to admit it. I listen to Luis Miguel all the time. I don't understand a word of what he's saying, but I love the passion. The same thing with Veronique Sanson, who is a French artist. I'm always drawn to people's passion, even if they can't sing. If they're passionate about it, you don't care that they can't sing.
MW: Like Bob Dylan?
JOHNSON: Well, what he wrote is amazing. And I'm drawn to his words. Music can certainly change lives. Words and music can change lives, if you're really listening. And that's one thing that I hope audiences get out of Joplin. If you really listen to this show, there are deep messages across the board.
MW: You've staged this as just a concert, with Joplin singing and talking about her life from the stage – which, of course, allows you to avoid any of the less savory or speculative details about her life, and especially death.
JOHNSON: Everyone knows [Joplin] died, that's not the point. The point is to be with the spirit, the music, the art, the essence of Joplin and her influences. And that's why I created it.
She's in the super-consciousness. You still hear Joplin all the time. People still think about Janis. Whatever she did was bigger than her life herself. She created, like [Jim] Morrison. They live on. And what they accomplished is much more powerful than any one life. That's the thing. I didn't get into the drug abuse or any of that stuff because I felt that that's been done. And it's not really important. Again, everyone knows it.
MW: What do you see or hope for the future of this show?
JOHNSON: I'm hoping that we'll have a substantial regional run. I'm hoping that it'll eventually play Broadway. I'm hoping that the country gets to see it.
MW: What's next for you?
JOHNSON: The thing is, the universe has always provided these doors and I've walked in. I've been able to work with these people. I never planned to work with anybody. I never planned to write this play. The universal mind just keeps sending opportunities and I keep saying yes.
MW: Another aspect of Joplin's life that isn't discussed in the show is the suggestion that she was bisexual.
JOHNSON: You know, I don't know about it. I started to read a lot of books about Janis. When I realized I'm just reading a bunch of opinions…. I don't know. You read about it, but it's sort of like after people die you don't know what's true or not.
I think that anybody who is trying to find themselves, whether you're gay, straight, transgender, confused – one message you can come out of this show with is be yourself. It may not be the easiest thing in the world. But come to terms with yourself. Your life can be much easier than you're making it.
MW: And that's one reason Joplin and this show in particular has appeal to the LGBT community.
JOHNSON: Absolutely. I think that she appeals to everybody. But I think that, like the divas of the world, there's something that you can find. We identify with them as a gay culture, because they actually are authentic and bigger-than-life. And give you hope when there's no hope. And give you something to strive for. And the divas can be men, too. But people like Janis and Cher and Barbra and Madonna and Lady Gaga – I think give people who feel "less than," a reason to feel "more than."
One Night with Janis Joplin runs to Nov. 4 at Arena Stage, 1101 6th St. SW. 'Tickets are $45 to $94. Call 202-488-3300 or visit arenastage.org.'