It's funny how freeing coming out can be. Though Mika only officially came out as gay a few months ago, after he had already completed work on his new album, it's notable how much lighter and more direct the music and the lyrics on The Origin of Love are from his first two albums.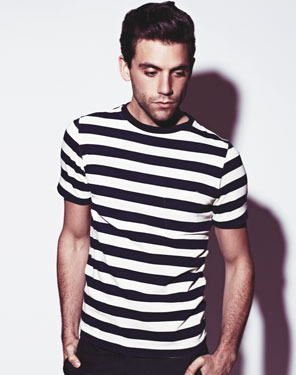 Mika
(Photo by Mark Cant)
In fact, Mika seems to have finally taken his own medicine. "Life could be simple but you never fail to complicate it every single time," Mika sang on the catchy, handclap wonder "Blame It On The Girls" from his last set, The Boy Who Knew Too Much. This time around, not only does Mika say in two different songs that being "gay" is okay, he understands that life is short. "Emily, it's your life and you can't live it twice," he sings. "One day you'll understand and then you'll take my hand."
As you might have noticed, Mika still occasionally dances around himself in his songs here as before, shifting the spotlight to a third person. But he is also less circumspect about love and life throughout. And he's gained more confidence and audacity. He's not afraid to ruffle feathers by calling Adam and Eve "stupid," for example. He even criticizes God for punishing the original lovers. "He taught them hate, taught them pride," Mika sings on the title track, which opens the set in full saunter. "Gave them a leaf, made them hide. Let's push their story aside." As if that weren't sacrilegious enough, Mika even creates his own high-church choral chant: "Madre Deus…Deus machismo/Madre de Deus santo spirit."
Mika even takes on the showtunes gods, revamping the popular "Popular" from Wicked, turning it into an anti-bullying anthem, and celebrating that bitch karma. "Dunk me in the toilet, now it's you that cleans them," he taunts his former school bully. "All that you have to do is be true to you," goes the song's winning refrain.
Mika has always been audacious with his music, working to create the sunniest, catchiest – but always engaging, never sappy – pop tunes around. The Origin Of Love, made with Mika's right-hand producer Greg Wells, is, surprisingly, even sunnier than the two that came before it. It's also more in line with the current state of pop. He even worked with super-producer Benny Benassi, whose airy, bubbly "Stardust" is every bit as stunning as his recent work with Madonna ("Celebration," "Girl Gone Wild," "I'm Addicted"). The music perfectly captures what Mika sings about in his lyrics. From the Daft Punk chilly-yet-warm synth-pop ballad "Make U Happy" to the Ryan Tedder-besting grandiosity of "Underwater," Mika proves himself to be one of today's savviest pop songwriters. He also improves on his clear predecessor Neil Tennant. While the giddy "Love You When I'm Drunk" owes a serious debt to Tennant's Pet Shop Boys, particularly the duo's 12-year-old hit "You Only Tell Me You Love Me When You're Drunk," Mika's song is not a carbon copy. In fact, the song and Mika's delivery is as wondrously drunk as its lyrical sentiment – something you cannot say for the droll Boys.
MIKA
The Origin of Love
Casablanca Records
$9.99




1/2
Chances are, you'll also be drunk after listening to The Origin of Love's 13 strong tracks. But long after you've taken too many drinks from Mika's well, you'll still be happy to go back for more. And even when you're sober, you'll still love it.
DOWNLOAD THESE: "Stardust," "Origin of Love," "Emily"