Sally Field was presented with the Ally for Equality Award by her son, Sam, at the 2012 Human Rights Campaign National Dinner in Washington, D.C. Field said she decided to talk, for the first time, about her son's coming out as a gay man for two reasons. First, she wanted to support other children who have been rejected by their families, and secondly she wanted to thank the LGBT community for fighting for the changes that made her "job as Sam's mother so much easier." The sold-out event was held Saturday, October 6, at the Washington Convention Center.
Also, Jesse Tyler Ferguson of "Modern Family" made an appearance along with many other famous names and faces including Dustin Lance Black.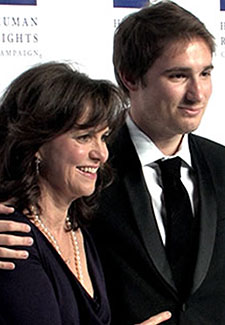 Read more about what went on at the HRC National Dinner event here.