If there's a perfect time to read The First Male, the fifth novel from local gay author Lee Hayes, that time is now. Published in September, the supernatural thriller offers ample horror, well suited to Halloween. The novel offers its own date as well: the winter solstice.
"Beneath a cold, blood moon, of the shortest day, He shall come forth in flame; in storm," reads a solstice reference from the opening chapter of the book, set in a stormy swamp and featuring a cataclysmic birth.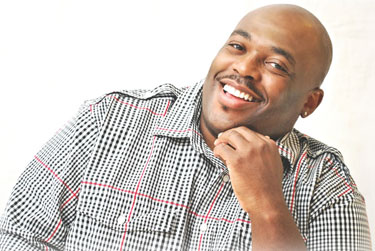 Lee Hayes
(Photo by DTK Photography)
Having recently relocated from Largo, Md., to the more remote Brandywine, Hayes isn't sure he'd be comfortable sitting down the write more chilling tales in his isolated abode.
"The house kind of creeps me out," he says. "I'll just have to write in the daytime."
While the supernatural is an entirely new style for Hayes, the horror and violence is not, with past work featuring intimate-partner violence in a gay couple and a serial killer who stalks gay men. While delving into new territory, "The First Male" also leaves out any gay themes. Instead, readers will get snakes. Lots and lots of snakes.
"If you don't like snakes, this will help you get over your phobia," Hayes promises those suffering from ophidiophobia.
Getting his first taste of writing supernatural horror – free to create fantastical otherworldly scenarios, yet needing to maintain some sense of plausibility – Hayes enjoyed the new challenge. So much so, he says, that he'd like to continue, but with the addition of one of his signature components.
"I've always been a horror-movie fan, I love Halloween," he says. " So I think it would be cool to do a supernatural-gay-horror mix."
But give Hayes a little bit of time. Aside from a more pedestrian day job and working on a screenplay project, there's only so much time for writing. And, as he says, writing horror in Brandywine is going to be restricted to daylight hours. '
The First Male, published by Strebor Books/Simon and Schuster, sells for $15, available in most bookstores and online. For more about Lee Hayes, visit leehayes.info.