Members of the Gertrude Stein Democratic Club split over two candidates popular among members of the LGBT community Tuesday night, Oct. 23, resulting in no endorsement for the non-Democratic at-large D.C. Council seat.
Incumbent Councilmember Michael A. Brown (I-At Large) and challenger David Grosso (I) both failed to obtain the 60 percent of votes needed to garner the endorsement of the city's largest LGBT political group.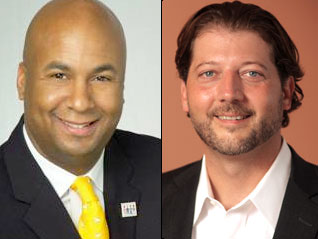 Michael A Brown and David Grosso
A recent poll by Washington City Paper and WAMU's The Kojo Nnamdi Show found a similar split among the whole of D.C. voters, with Brown leading Grosso by a 26-21 margin in the at-large race, and 32 percent of voters saying they are undecided. Other non-Democratic candidates garnered around 22 percent of the vote. The poll did not include incumbent Councilmember Vincent Orange (D-At Large), but because Orange is the sole Democrat running in an overwhelmingly Democratic city, he is expected to win one of the two At-Large seats.
Throughout the Stein Club meeting, Brown referenced his record on the Council and his work on behalf of the LGBT community, saying he has put forward or passed legislation related to ethics, education, bullying, affordable housing and crime.
In one of his more eye-opening statements, Brown said he wanted to put more money into the police budget to expand the Metropolitan Police Department's Gay and Lesbian Liaison Unit (GLLU) and restore staffing levels to what they were when the GLLU was a more centralized unit. MPD Chief Cathy Lanier has instituted a model that is less centralized, but with more officers receiving GLLU training, which has not proven popular with the LGBT community.
Brown also credited himself as the person who encouraged former Councilmember Harry Thomas Jr. (D-Ward 5) to switch from a "no" to a "yes" vote on the District's 2009 marriage-equality bill, which allowed same-sex couples to wed.
As challengers, Grosso, independent candidate A.J. Cooper and Statehood-Green Party nominee Ann Wilcox all listed accomplishments and work outside of the Council, but also commented on Brown and the rest of the Council. Those critiques ranged from Brown's status as an "independent" despite close ties to the Democratic Party, to alleged corruption and conflicts of interest by various members of the Council.
Where Grosso seemed to gain the upper hand over Wilcox and Cooper as someone who could challenge Brown for the Stein nomination was not only in his responses to moderator and audience questions, but his record of work for former Councilmember Sharon Ambrose (D-Ward 6) and for Congresswoman Eleanor Holmes Norton (D-D.C.).
Cooper, 32, tried to cast himself as part of a new, independent generation of reformers in D.C., promising to "get out of the groupthink that dominates this city" and to push for changes on a variety of issues from employment to transparency. Wilcox, framing herself as both a reformer and populist, cited her long history of working with disadvantaged groups in the District, from Occupy Wall Street to homeless youth to the LGBT community, and vowed to listen to residents' concerns.
On the first round of balloting, Brown received 43.5 percent of the votes, while Grosso received 38.4 percent. Cooper and Wilcox received 0.5 and 0.2 percent of the vote, while 0.7 percent voted to not endorse any candidate. On the second ballot, when only Brown and Grosso were included, Brown earned 52.9 percent to Grosso's 40.5 percent, with 10.8 percent voting for no endorsement.
Because neither candidate reached the 60 percent threshold, the club made not endorsement. At the group's Oct. 9 meeting, Stein members endorsed Councilmember Vincent Orange (D-At Large), the sole Democrat in the race, for the other at-large seat.
The lack of an endorsement may be spun by both campaigns as a potential "win" for their candidate, as neither emerged victorious, allowing both to argue they have widespread support among the LGBT community without an embarrassing defeat.
"I hope to gain Stein's endorsement someday down the road, but it was important for me to come and be here and have a good role in this," Grosso said after the meeting.
Grosso also referenced his rating from the Gay and Lesbian Activists Alliance (GLAA), a 9, the second-highest score of any GLAA-rated candidate this election cycle, just behind D.C. Council Chairman Phil Mendelson's (D) perfect 10.
Brown also earned a solid rating from GLAA, 7.5, the fourth-highest score this cycle.