When Joe Biden appeared on NBC's Meet the Press May 6, many expected the former senator from Delaware, long known for his penchant for gaffes, to say something off-the-cuff. Few expected him to make history.
By the time Biden's appearance concluded, he had become the highest-level member of the Barack Obama administration to openly endorse marriage equality.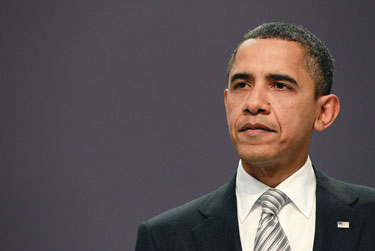 President Barack Obama
(Photo by Sean Gallup)
Asked by David Gregory if he was comfortable with same-sex marriage, Biden responded, "I am vice president of the United States of America. The president sets the policy. I am absolutely comfortable with the fact that men marrying men, women marrying women, and heterosexual men and women marrying another are entitled to the same exact rights, all the civil rights, all the civil liberties. And quite frankly, I don't see much of a distinction beyond that."
Biden's unscripted remarks left the White House scrambling to get ahead of the situation as many wondered whether President Obama, who had long described himself as "evolving" on the issue, agreed with Biden.
After three days of press secretary Jay Carney and other White House officials carefully maneuvering around Biden's remarks, Obama sat down with ABC's Robin Roberts and announced his support for marriage equality.
"At a certain point I've just concluded that for me, personally, it is important for me to go ahead and affirm that I think same-sex couples should be able to get married," Obama stated, securing his place as the first sitting president to publicly endorse the right of same-sex couples to marry.
An Irrevocable Moment for Democrats
Obama's endorsement did not come as much of a surprise to many. The president had been saying for years he was "evolving" on the issue of same-sex marriage. And evidence, including a survey Obama signed as an Illinois State Senate candidate in which he declared his support for marriage equality, suggests Obama ran opposed to same-sex marriage in 2008 for political purposes. After his endorsement, some speculated Biden had pushed Obama's hand on the issue, which Obama may have preferred to address during a second term.
But whatever qualms there were among Obama's strategists, his historic and unprecedented support for a key gay-rights issue has done little to hurt his candidacy. In many ways, it has shored up his support among an increasingly frustrated group of LGBT voters who saw a supportive president shying from the LGBT-rights movement's most visible fight.
It has also pushed the Democratic Party in a direction that many believe to be irrevocable: Never again will a major politician be able to run for the Democratic nomination for president while opposing marriage equality.
Obama's first term has seen a series of victories for LGBT Americans. Although Obama's declaration of support for marriage equality was more symbolic than anything else, key steps have been taken on other fronts with major consequences.
Most notably, Obama instituted the successful repeal of the 16-year-old ban on out military servicemembers, "Don't Ask, Don't Tell." He's appointed a record number of out gay and lesbian judges to the federal bench. And he ordered the Justice Department to stop defending the discriminatory Defense of Marriage Act due to his administration's belief that the 1996 law is unconstitutional, which now awaits consideration by the Supreme Court.
"After careful consideration, including a review of my recommendation," Attorney General Eric Holder wrote to House Speaker John Boehner (R-Ohio) in February 2011, "the President has concluded that given a number of factors, including a documented history of discrimination, classifications based on sexual orientation should be subject to a more heightened standard of scrutiny. The President has also concluded that Section 3 of DOMA, as applied to legally married same-sex couples, fails to meet that standard and is therefore unconstitutional. Given that conclusion, the President has instructed the Department not to defend the statute in such cases. I fully concur with the President's determination."
Despite the fact that this race has pitted the first sitting president to endorse marriage equality against a Republican candidate more conservative on LGBT issues than former President George W. Bush, there has been almost no discussion about the issues that matter most to gay Americans.
Indeed, even with DOMA and California's Proposition 8 set to be reviewed by the Supreme Court and voters in four states heading to the polls to vote on the right of same-sex couples to marry, Obama and Romney have not focused on their critical differences on LGBT issues.