Sports and awards go together like cleats and grass. But when Team DC starts handing out the kudos Saturday night, it won't be for most points or best time. Instead, the umbrella organization for the myriad LGBT sports organizations in the D.C. area – and there are plenty, from rowing to bowling, Frisbee to football – will be recognizing those athletes who have helped make the community one that affirms LGBT participations in sports, at all levels and at all ages.
First up is the MVP Award. Marcel Acosta and Brian Beary of the DC Front Runners didn't need to break a sweat for this honor, but they did have to put in hours to create Fast Forward, a documentary the duo created to mark the running club's 30th anniversary. Also at the MVP level is Walker Chaffin of the Capital Tennis Association for years of commitment to the Capital Classic Tennis Tournament – held once again in D.C. in 2012 – which has raised thousands of dollars for a variety of groups, such as Whitman-Walker Health and Food & Friends.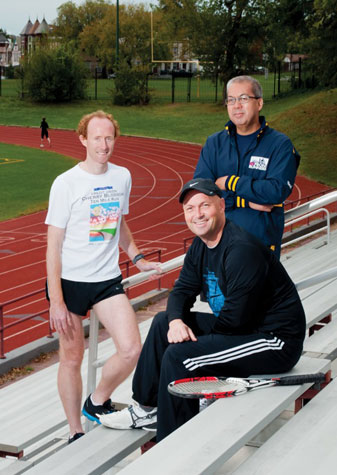 Team DC Awards: MVPs Marcel, Brian and Walker
(Photo by Todd Franson)
The Trailblazer Award, looking for those whose dedication has helped build organizations, this year goes to Craig Howell, president of Adventuring outdoors group; Elisabeth "Lis" Morgan of the DC Strokes rowing club, who serves as head coach of the group's "Learn to Row" program; and Curtis Yee, who helped found the Washington Wetskins water polo team, "the longest continuously operating gay and lesbian water polo team in the United States."
Finally, the 2012 Community Support Awards are going to D.C. United, the District's professional soccer club; and the You Can Play Project and co-founder Patrick Burke. While You Can Play tackles homophobia in sports, D.C. United was the first pro soccer team in the country to produce a video in support of You Can Play – an encore to the team's It Gets Better video.
The diversity of recipients speaks to the breadth of what Team DC has to offer, and Beary might be considered the personification of that. A native of Ireland, Beary was last living in Brussels before moving to D.C. in 2006. Here, he discovered the Front Runners and developed much of his social circle from the running club. But outings with Team DC also helped him discover more about his host country.
"I actually really like baseball," Beary can now say, thanks to Team DC's "Night Out at the Nationals" events. "I knew nothing about it beforehand."