UPDATE: The 17th Street High Heel Race has been rescheduled. The new date is Thursday, November 1, from 6-9 p.m; on 17th Street NW between P & R.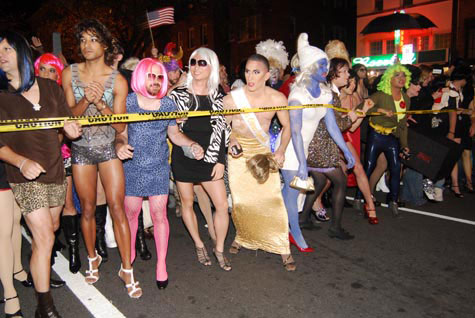 This year Halloween falls on a Wednesday. But before you hump that night away, practically every gay bar in the area will give you opportunities for tricks and treats this weekend. And then of course there's the High Heel Race on 17th Street next Tuesday, Oct. 30. Plus, JR.'s offers a special "Halloween Showtunes" on Monday, Oct. 29. So no rest for the wicked-at-heart: By the time of next Thursday's Day of the Dead, you'll likely be dead tired.
But let's not get ahead of ourselves. While you're still standing, you can kick things off this Friday, Oct. 26. The Latin party Fuego Salvaje at Café Asia offers a party with the theme "Angels & Demons" and DJs on decks include Mistico Benitez and XTASIS. Town Danceboutique features Freaky Friday contests for "FREAKiest, SLUTiest, Nicki MINAJiest & Honey BOOBOOest" costumes. Meanwhile, MOVA encourages everyone to dress as their favorite "Heroes vs. Villains" for its party featuring beats by David Merrill and Mike Reimer. Retro.Fixé at Tattoo Bar offers a multiple-category costume contest and a $500 VIP Package for best overall. DJ Flounder pumps the videos and music. Finally, Dupont's Bistro Bistro hosts the 4th annual Naughty or Nice Halloween Bash with a costume contest led by Shiqueeta Lee.
Saturday, Oct. 27, DJ India & Chloe present the 10th annual Crazy Wig & Halloween Costume Fest for ladies at Columbia Heights' Alero Lounge, offering cash prizes for sexiest and most creative costumes in a contest hosted by MC Luda. That night also ushers in a costume contest at Freddie's Beach Bar, offering $250 cash for first place, $100 for second and $50 for third. JR.'s also offers a $250 prize for its costume contest on Saturday, while Green Lantern offers a contest at midnight – with $100 cash or bar tab for first place, $50 for second and $25 for third – during its '80s-themed Tainted Love party with DJ Tom From Prague. The winner of Remington's costume contest on Saturday earns $250 in cash and a $100 bar tab.
The DC Eagle hosts its annual club-fundraiser Leather Sabbat party, the last in its current location, complete with a costume contest. Town Danceboutique offers its usual big-haul $1,000 prize for best costume as part of its annual Ghostown party with music by Ed Bailey and Wess. But this year, Town isn't the place to go if you need rent money. Number Nine offers a $3,000 prize – that's $1,500 in cash and $1,500 in bar tabs – for best costume, with the winner picked by a texting-mad crowd.
On Halloween night, Wednesday, Oct. 31, the original Phase 1 hosts its annual "THRILLHER: Women's Halloween Party," complete with a $300 costume contest. Meanwhile, its offshoot Phase 1 of Dupont teams up with Capital Pride for a spooky fundraiser, the "All Hallows Eve: Haunted House of Pride" and dance party, also featuring a costume contest. And at Omega, down the alley from the former Apex space, Kristina Kelly hosts a $100 costume contest during the night's weekly Shirtless Men Drink Free party with DJ Joey-O. The Ziegfeld's/Secrets complex presents a "Halloween on Halloween!" party featuring $500 in cash prizes, as well as the annual "It's Your Show!" event, where anyone can perform onstage. JR.'s alters its normal Wednesday night show in which average Joes become drag queens, transformed by host Ba'Naka, into an extra-scary-sounding Halloween Queen. Winner earns $200 and a chance to compete for a $1,000 grand prize on a later date. Nellie's Sports Bar offers a costume contest on Halloween night worth $250 in cash for 1st, a $100 Nellie's tab for 2nd and $50 dinner at Cubano's for 3rd. Mixtape returns to the Howard Theatre for an extra, costumed edition of Shea Van Horn and Matt Bailer's alt-pop/disco/house party.
On all hallows' eve, Oct. 31, Baltimore's Club Hippo will offer $500 to the Best Overall Costume winner, as well as offering $250 prizes for Best Look-A-Like and for Best Group, plus 10 $50 bar tabs for runners-up. The venue's resident DJ Kuhmeleon will supply the beats for this weeknight party with a $10 cover.
But if you really want to get away from the D.C. Halloween hubbub, you should take refuge at The Lodge Lounge + Dance Club in Boonsboro, Md., near Hagerstown. This year The Lodge hosts four – yes, four – spooky events, starting with a Halloween Drag Show, "Possessed: Tales from the Lodge Crypt Volume 01," on Friday night, and then the Saturday night Halloween Bash 2012 with $500 cash and bar tab prizes and DJs Grom and Teknoir. Finally there's Skaraoke Sunday and then Wednesday's "Hump Night Fear: The Closing Party," with both events offering drink specials for those in costume.
For more info on these and other area gay bars, visit metroweekly.com/nightlife.
Also, check out our frightening photos from Halloween of years past, and watch the High Heel Race from last year: