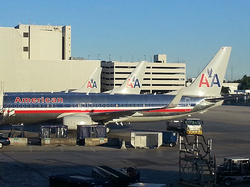 Despite being intensely engaged in an effort to emerge from bankruptcy, American Airlines has been recognized for the 11th consecutive year by the Human Rights Campaign with the highest possible ranking in the 2013 Corporate Equality Index.
The Corporate Equality Index rates employers by conducting an analysis of America's top workplaces and their inclusion of lesbian, gay, bisexual and transgender employees. Ratings are based on factors such as non-discrimination policies, equal benefits for domestic partners, respectful advertising, and external community outreach.
"All of us at American Airlines are grateful for this recognition," said Denise Lynn, American's Senior Vice President – People. "We see this milestone as a reflection of our dedicated team getting it right every single day by creating a safe and welcoming environment for our people and our customers. Together with the leaders of GLEAM, American's Gay, Lesbian, Bisexual and Transgendered Employee Resource Group, we are committed to being a leader in equality and inclusion."
HRC released their ratings yesterday with a record 688 businesses rated. This year, 252 businesses received a perfect score.
United was the only other airline to achieve a perfect score. Alaska, Delta, JetBlue, Southwest, US Airways and Virgin America each recieved a 90.
Among hotels, Caesars, Choice, Hyatt, Kimpton, MGM, Starwood, Wyndham and Wynn each received a perfect score. Hilton, InterContinental and Marriott each received a 90. And Carlson also made the top tier with a 85.
In a written statement by Hyatt, the first major hotel company to offer domestic partner benefits, Robb Webb, chief human resources officer, said "Enhancing and sustaining a positive work experience for our associates around the world is our priority. We must be an inclusive company if we are going to attract and retain diverse associates with the talent, energy and attitude to create experience for guests that will make Hyatt their first hotel choice."
Also receiving high marks are Orbitz with a perfect 100 and Expedia with a 80 as well as Royal Caribbean Cruises with a 90.
A complete copy of the Corporate Equality Index is available at www.hrc.org/corporate-equality-index.