Midway through Sam Mendes's Skyfall, James Bond is stuck in a familiar situation. He's tied to chair, smirking as a peculiar-looking man lectures him on the finer points of villainy. The man turns to his captive and asks, "Do you have any hobbies, Mr. Bond?" He clenches his jaw, stares down his nemesis, and delivers a devastating one-liner.
"Resurrection."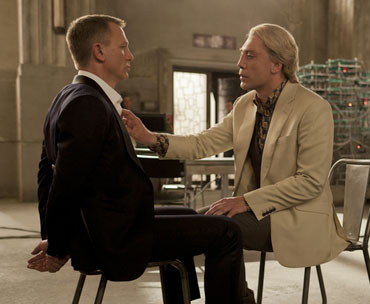 Skyfall: Craig and Bardem
In so many ways, Skyfall is concerned with the same. Yes, this movie has Bond girls, a grotesque antagonist, an Aston Martin DB5, and 007's trusty sidearm, the Walther PPK — but it's also intensely aware of how and why these things came to define the James Bond franchise. Mendes (American Beauty, The Road to Perdition) tugs at the seams of the Bond formula, cleverly pulling apart each trope, only to reshape it slightly askew. He's made a movie that's a friendly criticism of its own genre. It's a Bond flick about Bond flicks.
Skyfall opens just as you might expect: Bond (Daniel Craig) is chasing an unnamed criminal through the crowded streets of a foreign country. As he races through Istanbul's Grand Bazaar, another MI6 agent (Naomie Harris) trails only footsteps behind. The stakes of Bond's pursuit grow exponentially — he crashes a motorcycle through a train station, he throws himself off a bridge onto a moving locomotive, he trades punches with his target on the top of a train car. And then, at the height of the action, in those last few seconds before an Adele-backed title sequence kicks into play, James Bond is shot "dead" on the tracks. That's when you realize: Skyfall is no ordinary Bond movie. Despite accomplishing everything that the likes of Goldfinger or From Russia With Love did so well, the latest chapter signals a fascinating evolution for the decades-old franchise.
Bond is no longer the preposterously athletic super-spy that made Craig famous in Casino Royale. (Not that his oft-shirtless body does anything but suggest it.) His nerves of steel are frayed, his intestinal fortitude held together with a cocktail of booze and painkillers. He's old. He's lost a step. He can't even shoot straight. Meanwhile, M (Judi Dench) is facing a parliamentary inquisition over a classified data leak that put MI6 agents around the world in danger. Both she and Bond, the ever-present stalwarts of their world, have to face a question unlike any they've been asked before. How do you know when you've outlived your purpose?
It's difficult to consider this question without recognizing its subtext. The first Bond movie, Dr. No, came out fifty years ago. After Metro-Goldwyn-Meyer Studios declared bankruptcy in 2010, some wondered if another Bond movie would even be made. Naturally, Mendes doesn't explicitly acknowledge MGM's financial problems, but he directs Skyfall with such a playful cynicism for its predecessors, it's hard to imagine that the movie isn't also a full-blooded defense of the Bond franchise. He reintroduces beloved characters like Q (Ben Whishaw), and then gives them the freedom to wink at past versions of themselves. (After giving Bond a decidedly unimpressive bundle of tech, Q deadpans, "Were you expecting an exploding pen? We don't exactly go for that anymore.") Mendes isn't just pandering to fans, though. He's playing to the franchise's strengths for the sake of emphasizing Skyfall's themes.
SKYFALL




Starring Daniel Craig, Judi Dench, Javier Bardem
Rated PG-13
143 minutes
Area theaters
Now playing
And yet, that's not the only reason why Skyfall will be remembered as one of the best Bond movies. It's legitimately compelling on its own, if only for Roger Deakins's splendid cinematography and Javier Bardem's uncanny turn as Raoul Silva, a homoerotic spy-turned-criminal mastermind. (Luckily, both Deakins and Bardem are in their finest form during Silva's first on-screen appearance.) The story that propels Skyfall forward is curiously small, but it gives Mendes plenty of opportunity to show off his chops with taut, tense action scenes. It may not always be subtle, but hey, what's the point of subtlety in a Bond movie?
Perhaps that's why Skyfall is so invigorating to watch. Despite the thoughtful critiques of itself — and an unfortunate two-hour, twenty-minute running time — the movie rarely seems onerous or navel-gazing. When things get too familiar, another surprise is always lurking within the next few frames to jostle it all up again. (During an exceptional tense scene, Silva quips, "All this jumping and fighting. It's exhausting! Relax, you need to relax.") Skyfall is one of the most personal Bond movies ever made, but it doesn't abandon fifty years of tradition. It embraces it.