Secretary of State Hillary Rodham Clinton reaffirmed her commitment to increasing acceptance of LGBT people around the world during a speech at the State Department today, but remained silent on concerns that continue to mount regarding an anti-gay bill in Uganda.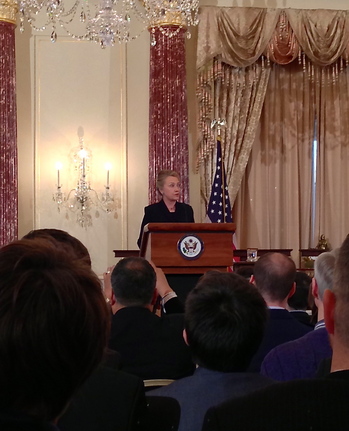 Addressing a group of about 200 people celebrating the 20th anniversary of the founding of Gays and Lesbians in Foreign Affairs Agencies (GLIFAA), Clinton said achieving equality for LGBT people in the U.S. and abroad was a mission she gladly assumed.
"We have to set the example and we have to live up to our own values," Clinton said.
"When anyone is persecuted anywhere, and that includes when LGBT people are persecuted or kept from fully participating in their societies, they suffer, but so do we," Clinton stated. "We're not only robbed of their talents and ideas, we are diminished because our commitment to the human rights of all people has to be a continuing obligation and mission of everyone who serves in the government of the United States."
The event marked the anniversary of GLIFAA's founding in 1992 in order to challenge a security-clearance process that discriminated against LGBT people serving in U.S. foreign affairs agencies.
In her speech, Clinton alluded to the struggles endured by countless diplomats in the years before a nondiscriminatory policy was issued in 1994, stating that the example set by American diplomats is a model for countries around the world.
"Remind yourself, as I do every day, what it must be like for a young boy or a young girl in some other part of the world who can literally be killed, and often has been and still will be, who will be shunned, who will be put in danger every day of his or her life," Clinton told the audience.
Clinton has made LGBT equality a priority of American foreign policy since becoming secretary of state, arguing that such policies are "integral to who we are and what we stand for."
However, left unmentioned by Clinton was continuing concerns over an anti-gay bill making its way through the Ugandan Parliament. Commonly known as the "kill the gays" bill, if passed in its original form the legislation could, among other things, force parents and teachers to report LGBT children to authorities and permit the death penalty for homosexual acts.
First introduced in 2009, the bill has faced widespread international criticism. Conflicting reports coming out of the African nation suggest the bill has not yet come out of committee, but could be approved as early as this week. There have also been reports that the death penalty provision has been dropped, but because no updated text of the bill has been released, many say such rumors could simply be an attempt by the bill's supporters to squelch international criticism.
LGBT advocates have called on the international community to condemn Uganda's actions, with some urging sanctions. Although Britain has threatened to cut aid to Uganda, the U.S. has made no such threats. President Barack Obama has condemned the bill in the past, but the White House has made no statement regarding recent movement on the bill.
Asked Nov. 26 whether the U.S. would cut foreign aid to Uganda if the bill is passed, State Department spokeswoman Victoria Nuland refused to engage in hypothetical situations.
"Our focus now is on raising awareness of the concerns within Uganda about this bill so that we don't get to that stage," Nuland said at a press briefing.
Yesterday, Nuland followed up on her statement, saying the State Department does not believe the bill has been passed by the committee and that the U.S. is engaged in talks with Uganda's leaders over their concerns. Johnnie Carson, assistant secretary of state for African Affairs, traveled to Uganda over the weekend.
"Our understanding is that President [Yoweri] Museveni certainly took onboard the fact that this could have a serious impact on the way Uganda is perceived, the way Uganda is supported in the international community," Nuland said. "There are many hoops for this thing to go through, as you know."
Although it remains unclear where exactly the bill stands, many believe it would pass a vote on the floor of the Ugandan Parliament. And while Museveni could veto the bill, Parliament could also override his veto.
Activists appear to be preparing for the worst. In an email obtained by Metro Weekly, LGBT-rights advocates in Uganda warned that with the bill expected to be passed as early as Friday, preparations are being made by gay Ugandans to seek refuge in foreign countries. The email states some fear mob violence may erupt upon the bill's passage.
[Photo: Hillary Clinton addresses GLIFAA anniversary celebration (Credit: Justin Snow).]