"There is nothing in the world as amazing as something that is neither completely clear, nor completely unclear," goes one of the morals imparted in the play The Conference of the Birds.
And if a lack of clarity is your cup of tea – and shades of gray your favorite color – than the Folger Theatre's production of the play based on a 12th century Persian fable may, in fact, strike you as pretty amazing.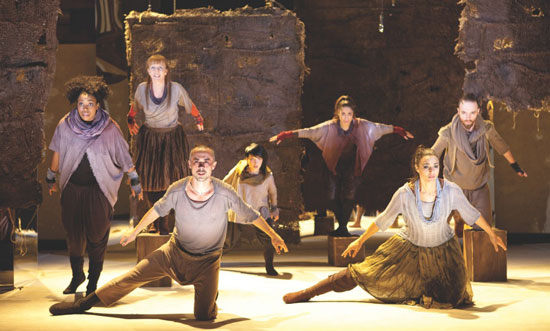 "Conference of Birds"
(Photo by Scott Suchman)
That is, of course, if you can first get over a prolonged scene about fowl flatulence. Yes, you read that right. Tara Giordano, playing a partridge, suffers through a case of sustained flatulence – complete with sound effects from musician Tom Teasley – as the bird's fears during a confrontation get the best of her. Though many in the audience at a particular performance roared in delight at the gag, I found it to be tactless and distracting, especially the way director Aaron Posner let it linger far longer than it should have. I know everybody farts, but shouldn't the takeaway message from a 1,000 year-old fable be of some larger import?
To be sure, Posner does offer some charming flights of fancy in his nesting at the Folger of this Sufi-infused tale as adapted in 1979 by Peter Brook and Jean-Claude Carriere. High above the stage, Teasley sets things in motion with a prelude featuring his trademarked brand of hippy-dippy world electronica, driven more by eccentric sounds than melody. Once the play starts, Teasley is less of a presence here – notwithstanding the flatulence – than he has been in previous shows with the Constellation Theatre Company. The focus is instead naturally on an ensemble of actors portraying various birds in the animal kingdom. The actors succeed far better than they might otherwise, courtesy of largely subtle, abstract stagecraft. Choreographer Erika Chong Shuch worked with the actors to emulate particular birdlike movements, but mostly in understated ways to simply add delight and not become scene-stealing distractions. As the duck, for example, Katie duBuys amusingly and repeatedly gives a quick waggle of her rump to express confusion or contemplation. She's also not dressed up here in duck drab – Olivera Gajic's simple costumes are mostly just getups and accents from the hippie-casual handbook, with neutral tones and loose fabrics, and no feathers or beaks in sight. Even in wordless passages when emulating flight voyages, you never lose sight that these are human actors, not birds. It's based on a fable after all, not a fantasy.