The president of the anti-gay Family Research Council is predicting "revolution" following a clean sweep of historic victories for the LGBT-rights movement on Election Day.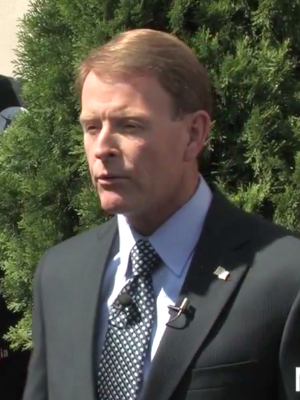 Tony Perkins, who has long railed against the rights of LGBT Americans and helped draft the Republican Party's anti-gay national party platform, has taken to the airwaves with rhetoric apocalyptic in tone following the re-election of President Barack Obama and the victories for supporters of marriage equality in four different states Tuesday.
Appearing on the American Family Association Channel, Perkins declared statements by activists that Tuesday's sweep of victories were a watershed moment for the LGBT-rights movement to be unfounded. According to Perkins, any ruling by the Supreme Court that declares the discriminatory Defense of Marriage Act unconstitutional, which could be influenced by Tuesday's victories, would leave Americans as divided as after the 1973 Roe v. Wade ruling.
"I think if the court steps in at this moment and says, 'We're redefining marriage, same-sex marriage will be the law in every land,' I'll tell you what, I think you will create a firestorm of opposition," Perkins said.
Noting continued divisions over abortion four decades after the Supreme Court upheld a woman's right to choose, Perkins continued: "When you look at a nation that is so divided along these moral and cultural issues, that you could have, I hate to use the word, but a revolt, a revolution. I think you could see Americans saying, 'You know what, enough of this,' and I think it could explode and just break this nation apart."
In a separate appearance with Perkins after the election, FRC Vice President Tom McClusky invoked "civil disobedience" as a term that will come up often over the next four years.
While Perkins and other opponents continue to justify Tuesday's defeats as merely a setback, Republicans, stunned by Mitt Romney's defeat on Tuesday as well as defeats in numerous Senate races, are re-evaluating how they connect with voters.
"We have a period of reflection and recalibration ahead for the Republican Party," said Sen. John Cornyn (R-Texas) in a statement released after the election was called on Tuesday.
According to exit polls, 71 percent of Hispanic voters, a demographic that continues to grow and a majority of which now support marriage equality, went for Obama. In 2008, 67 percent voted for the president.
Although Perkins and other opponents continue to insist otherwise, many party faithful have argued Republicans have some soul-searching to do.
WATCH Perkins's comments here via RightWingWatch.org: