PERSONAL/FAMILY LIFE
10:30 a.m.
Tipping the Scale – Work/Life Balance
Ken White, Signal Financial
Eleasa DuBois, Tight Body Makeover
Julie Gray, Profound Impact
Tom DiGiovanni, Energy Coaching Associates
11:30 a.m.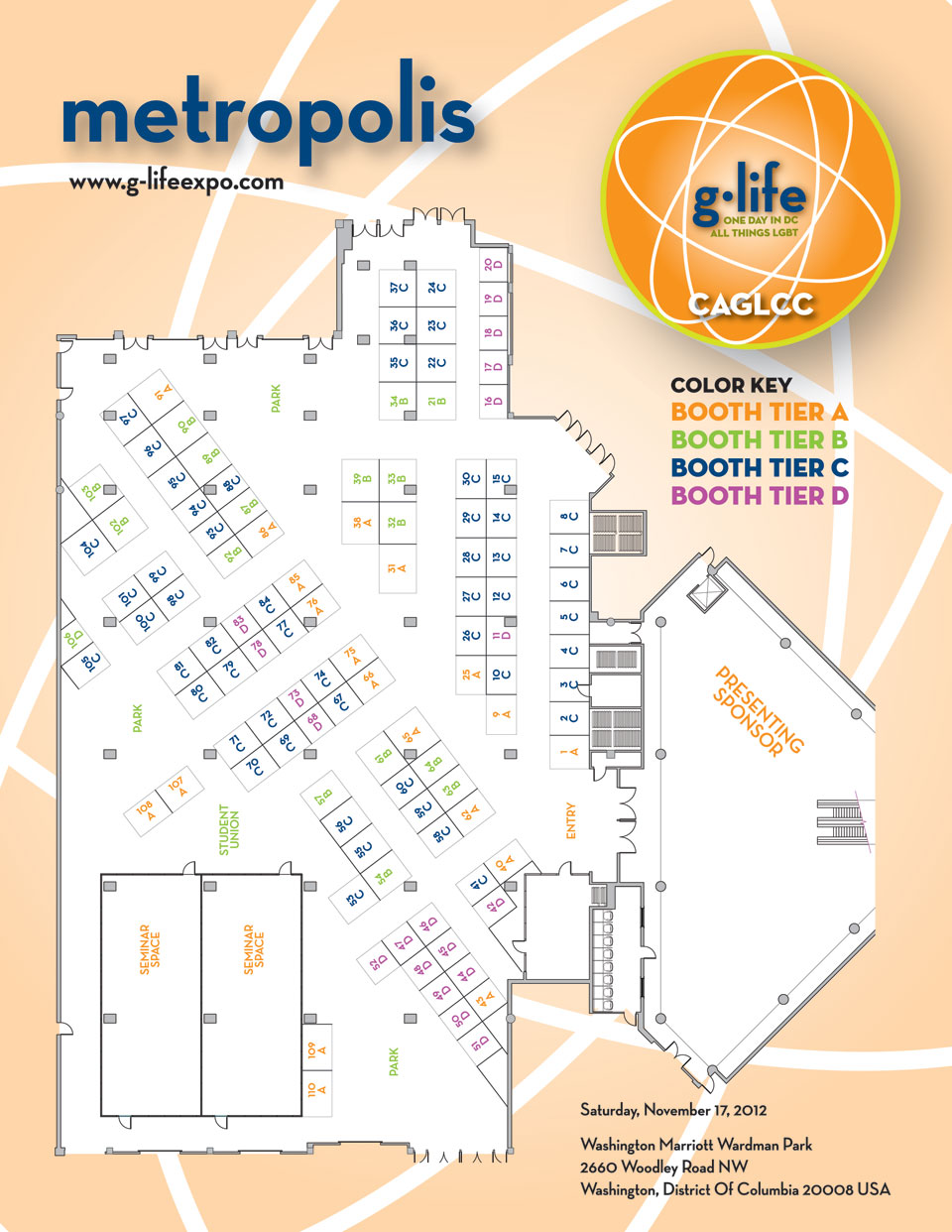 Financial Planning – For LGBT Folks Who Hate Financial Planning
Denise Bump, Bump & Associates
Frances Toler, Toler Financial Group
Stefan Nicholas, Wells Fargo
John Quattlebaum, Wells Fargo
Silvia Tergas, FPA Prudential
12:30 p.m.
LGBT Tax Planning 101 – More Than Just Loop Holes
Brian Haney, Mass Mutual
David Taube, Kalorama Wealth Strategies LLC
John T. Caldwell (CPA, MST, CGMA) Malvin, Riggins & Co. P.C.
1:30 p.m.
Modern Families – TV to Reality, Managing Your Whole World
Starr Jefferson, Stellar Financial Services
J. Max Barger, Ackerman Brown
Gregory Lawson, Merrill Lynch
Sean LeSane, Psychotherapist
2:30 p.m.
Building a Stronger LGBT Community
Sean Bugg, Metro Weekly
Christopher Dyer, Dyer Consulting Services
Candace "Ace" Portis, Transgender Equality
June Crenshaw
3:30 p.m.
Post Election 2012 – Where Do We Go From Here?
Jay Vilar, Washington Business Journal
Brad Jacklin, NGLTF
Mara Keisling, National Center for Transgender Equality
Sultan Shakir, HRC
BUSINESS/CAREER DEVELOPMENT
10:30 a.m.
Start Ups 101 – Getting It Off The Ground
Phil Giorgianni, NGLCC
Joe Cote, Capsule Pen
Ricardo Ramos, Studio Ramos
11:30 a.m.
Giving It Wings – How To Grow Your Business
Glen Ackerman, Ackerman Brown
Neil Cerbone, Neil Cerbone Associates
Juli Monroe, 1 to 1 Discovery
Scot Span, Tolero Solutions
12:30 p.m.
You're Either LinkedIn or Locked Out
Anthony Shop, Social Driver
1:30 p.m.
Ones and Zeros – Digital Marketing for the Entrepreneur
Daniel Vickers, Flux Forward
Ron Romanski, Preactive Marketing
Stone Lyons, Lyons Media
Dan Banks, Design Project DC
2:30 p.m.
Trans in the Workplace – Why It Matters to You
Susanne Coates, TechCentric
(Other Panelists TBA)
3:30 p.m.
Career Moves – Making the Most of OUT While Moving Up
Marshall Brown, Marshall Brown Associates
Bill Pullen, Pullen Associates
Julie Coons, Retailing.org