UPDATE (Tuesday, Nov. 13, 9pm):
Kevin Clash released a statement to the press which, in part, confirmed that he is gay:
"I am a gay man. I have never been ashamed of this or tried to hide it, but felt it was a personal and private matter."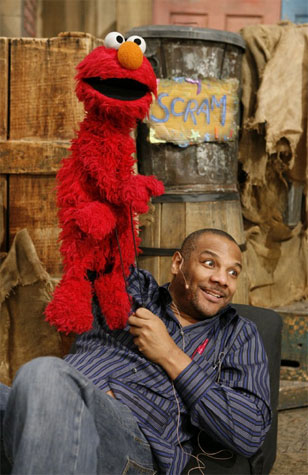 The unnamed accuser later withdrew his earlier accusation. He confirmed that the relationship with Clash was between consenting adults. According to E! Online, the accuser's lawyers released this statement:
"This office represented the 23-year-old man who was the subject of many media reports regarding Kevin Clash. He wants it to be known that his sexual relationship with Mr. Clash was an adult consensual relationship. He will have no further comment on the matter."
Clash replied afterward that he was "relieved," and added that he too would have no further comments.
ORIGINAL POST (Mon, Nov. 12, 2pm):
Gossip site TMZ is reporting that long-time Sesame Street puppeteer, Kevin Clash, has been accused of having sex with a teen male several years ago. The accuser is now 23; Clash is now 52. The claim of impropriety appears to be about whether the accuser was beyond the age of consent or not.
TMZ quotes Clash as saying:
"I had a relationship with [the accuser]. It was between two consenting adults and I am deeply saddened that he is trying to make it into something it was not."
The Sesame Workshop released a statement on its website which says the company concluded that the accusation is "unsubstantiated." They do add that Clash used "poor judgment" and violated their internet usage policy. In part, the statement reads:
"In June of this year, Sesame Workshop received a communication from a then 23 year old man who alleged that he had a relationship beginning when he was 16 years old with Kevin Clash…. We met with the accuser twice and had repeated communications with him. We met with Kevin, who denied the accusation. We also conducted a thorough investigation and found the allegation of underage conduct to be unsubstantiated…. We have granted [Clash] a leave of absence…."
Clash is known for providing the high-pitched voice of Elmo, a furry red monster that is responsible for much of the company's merchandising success. Clash is from Baltimore, MD and he gained personal fame through the documentary about his life, "Being Elmo."