Steven Reineke once played trumpet in a college production of Pippin.
Decades later, Stephen Schwartz, the composer of Pippin, sat at Reineke's piano in New York playing his way through early versions of "The Wizard and I," a tune from his most recent and most successful musical by far. "I was in heaven sitting there listening to this brilliant guy sitting in my living room playing songs that got cut from Wicked," marvels Reineke.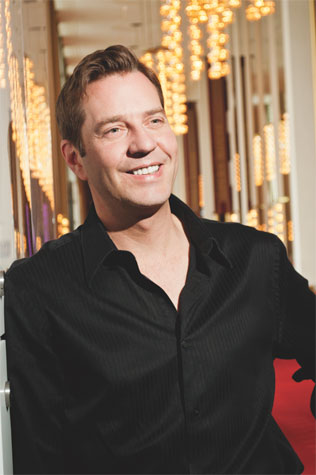 Steven Reineke
(Photo by Todd Franson)
Those songs will factor into a National Symphony Orchestra program at the Kennedy Center next May honoring both the 10th anniversary of the unstoppable Broadway phenomenon that is Wicked as well as Schwartz's 65th birthday. The program will also complete – in stunning, grand fashion ­– Reineke's second season as the principal conductor of the NSO Pops.
"I feel like I've found my home and my niche," says Reineke. "I feel like this is what I was born to do."
The 42-year-old was born the youngest of three boys in Tipp City, just outside Dayton, Ohio. He studied music composition and trumpet performance as an undergraduate at nearby Miami University of Ohio, but found his calling through work with the celebrated Cincinnati Pops. Pops founder Erich Kunzel took Reineke under his baton and helped position him to be the young, exuberant star conductor he is today – in fact, he's become the reigning pops conductor in North America. In addition to the NSO, Reineke this year became principal pops conductor for the Toronto Symphony. And for several years now has served as music director and conductor of the famous New York Pops, based at Carnegie Hall. Reineke credits a stellar team of assistants, both personal and institutional, with helping him successfully manage three major orchestras simultaneously. That's not to mention his many guest conducting gigs with smaller orchestras around the U.S. and Canada, including the Jacksonville Symphony and the Florida Orchestra, both near where his parents have retired.
After a rousing opening with Roberta Flack, Reineke's second season with the NSO Pops continues Thanksgiving weekend with a concert featuring Megan Hilty, a Broadway veteran (9 to 5: The Musical, Wicked) now best known for her prominent role on TV's Smash. Hilty will be joined by tenor Aaron Lazar (Mamma Mia!, A Little Night Music), who last year helped kick-off Reineke's first season with the NSO Pops in a Rodgers and Hammerstein showcase.
Recently, over coffee at Foggy Bottom's boutique River Inn, Reineke talked about everything from growing up in a Mayberry-like town in western Ohio to now living in the thick of it all in midtown Manhattan. But the focus, naturally, was on his wide-ranging tastes in – and passion for – music.
METRO WEEKLY: I want to start by asking you about conducting itself. Is it everything you thought it would be?
STEVEN REINEKE: Conducting is mostly what I thought it would be. I get asked all the time, "What do you actually do?" It's a very enigmatic type of career. And mainly they mean what do I actually do when I'm standing up there giving all those hand signals. Basically, I'm calling plays just like signals in baseball or in football. It's a whole series of sign language that we have together.
But it's so much more than that. It's all the stuff that happens off the podium. It's planning out these programs. It's planning out a season. It's finding the guest artists, booking the guest artists. Finding new talent. Knowing what your audience wants. Most of my career is not actually waving my arms conducting. It's doing all the other parts of it.
MW: I know you sometimes play piano in performance, and will do so for a number with Megan Hilty. How about the trumpet?
REINEKE: I actually haven't played the trumpet in probably close to 20 years. As soon as I graduated, I put it in the case and pretty much never opened it again.
MW: Not even in your spare time?
REINEKE: No, it just takes too much to keep it up. I had won a grant after college to go to Los Angeles and study film music, so I was fully invested in composing and writing music. And that took enough time out of my day, rather than to sit and practice the trumpet for three or four hours. I just had music running around my head and I needed a way to get it out. The trumpet you can only play one note at a time, so that was fine for a while but then I just needed to explode. So I needed 10 fingers and 10 toes to be able to figure out how to do that.
MW: So initially you tried your hand at being a film composer?
REINEKE: Yeah, I lived in L.A. for two years. A lot of independent study, some with Henry Mancini before he passed away. I did a lot of recordings with the Composers Guild Orchestra of Los Angeles, basically putting together a demo reel for producers and directors. I made a lot of great contacts, and it was fun, but it all led back to me being kind of discovered by Erich Kunzel at the Cincinnati Pops. I went to Cincinnati for some months and did some work on some recordings that the Cincinnati Pops were doing. And Erich liked them so much he said: "Would you consider moving back to Cincinnati and being our principal arranger and composer for the Cincinnati Pops Orchestra?" And of course I was a 24- or 25-year-old kid, and there was no job like that in the country left any more. So I was ecstatic.
MW: Are there jobs like that in the country now?
REINEKE: No, no there's not. That was the last of its kind, of really a full-time job. All of that work now is still done, but done on a much more pared down, freelance basis. I hire a lot of arrangers and orchestrators now. I may use two or three different arrangers on a project, rather than having one full-time staff position. They just don't exist anymore.
MW: Is that when you started conducting, as an arranger with the Cincinnati Pops?
REINEKE: That is when I started conducting, when I studied with Erich. One time, we were on a long road trip, and he looked over and saw me air-conducting in the passenger seat to a recording of ours, and said, "What, so now you want my job too?" That began our formal training in conducting.
MW: He trained you how to conduct?
REINEKE: Yeah, he did. We had real, scheduled lessons and everything. Every time he was in town, he'd give me assignments. But I tell you what, I learned a lot just being around a genius like him – watching him put together programs, watching him interact with audiences, patrons, donors. He was the best teacher I'll ever have because he was a master at it all. He was so good at it.
MW: How long has the pops orchestra concept been around?
REINEKE: Since the late 1880s, really. The Boston Pops really started the genre. When Arthur Fiedler came on the scene [as head of the Boston Pops in the 1930s], he really fine-tuned the genre of what pops is, of what a pops orchestra is. At that time they were doing a lot of light operetta. They would do Franz Lehar's The Merry Widow. They would do the overture to Strauss's Die Fledermaus. And as it grew, my teacher, Erich Kunzel, he kind of picked up where Arthur Fiedler left off. He started to really incorporate early guest artists. The greats, when they were still alive: Ella Fitzgerald, Duke Ellington, Frank Sinatra. Eric would hire them and work with them with a full symphony orchestra backing them up. He even encouraged Duke Ellington to write some of his strictly orchestral music, rather than his big band jazz stuff. So those were great, great collaborations. And that's really where it came from. And now, you know, we have different guest artists. We can still harken back to that music, but there are people like Roberta Flack and like Chris Botti that we work with today. And believe me, I'd love to get together with someone like Adele – I'm hoping that happens. Please, have that baby!