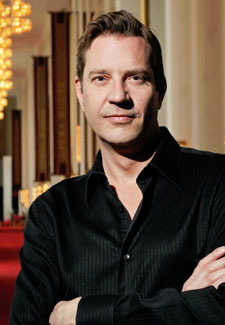 Steven Reineke
(Photo by Todd Franson)
But as a social issue, one of my great thrills is being able to work here at the Kennedy Center. It's an honor, and it still gives me goose bumps when I walk on the stage, because it's symbolic of what this nation is capable of artistically. When I walk around the outside of the Kennedy Center, I absolutely love taking moments to read John F. Kennedy's brilliant quotes that are inscribed on the building.
MW: So what can you do, as a music director and composer, to help reunite our country socially?
REINEKE: I think we're doing all we can. We're certainly trying as professionals working in this industry. It all begins when you're young. It begins with exposing young people to the arts, and to what's important and what's beautiful.
And it's being cut out of curriculums left and right, saying that [the arts] is not important or not necessary. I beg to differ. It's as important as math and English and science. It is absolutely as important in critical thinking, but also in expanding imagination and creativity and the mind. I think we need to continue to do more with education, and certainly not continue to cut it. We need to put it back in schools' curriculums, whether it be music or whether it be great literature or art or architecture. All these things challenge a young person's mind and get them interested in a life that is about something more harmonious.
There's too much playing World of Warcraft, and everybody thinking that everybody on this tiny speck we call Earth has to fight with each other. Music is the universal language. It honestly is. And it is something that can tie together people of different religions, of different ethnicities, of different languages. Everybody can understand it the same way.
MW: Is that something you work on, musical education?
REINEKE: Absolutely. We've got really big education programs that we do at the New York Pops. At least once or twice a year I will make visits to schools with no music education and do rehearsals with them. We also have a program we do called Kids in the Balcony. We normally have a couple hundred of them at every concert. So throughout the concert season we have more than a thousand kids get to come and hear the New York Pops play at Carnegie Hall for free.
For some of them it's honestly life changing. I've gotten notes from kids who are now majoring in music in college, because they remember going to see a concert at Carnegie Hall when they were young. It's incredible to them.
MW: Can you directly peg your musical awareness, or pursuit of a musical career, to any one past event like that?
REINEKE: That's hard to say about one particular thing. There were many. I had many great inspirations, and many great teachers that really pushed me.
MW: Was your school well-funded in the arts?
REINEKE: Yes, sort of. It wasn't well-funded, but we had a couple of teachers who ran it that were impassioned about it. My music teacher in high school, we didn't have any classes in music theory, or ear training, or anything advanced like that, which you would start to get in college. A few students wanted to study these things, so without getting paid, in his own time, the music teacher set up a class after school. We would stay after school in the band room, and he made classes out of it, and we would do lessons in all this stuff. It was those kinds of people who were dedicated to it that saw the need and saw talent that was hungry for it.
MW: As far as composing goes, who were your influences?
REINEKE: So many people, but I have to say I really love some of the big Americans, like Leonard Bernstein and Aaron Copland. And I have to throw John Williams into that mix. A lot of people won't want him put into the same sentence, but he deserves to be there. He's one of the most prolific and most heard American composers in history. And a lot of his music is really, really terrific. So there's several. And of course I do love Tchaikovsky a lot. I love Rachmaninoff. Rimsky-Korsakov.
MW: Romantic composers, pretty much all. Nothing really atonal or minimal.
REINEKE: Yeah, it's not so much for me. There are certain parts of what you might call avant-garde music, whether it be minimalism or 12-tone or atonal, that can be interesting. But I'm a believer that music should be more for the masses. I think our days of living in the ivory tower and being elitist are over. Otherwise, orchestras will die. Not that we have to pander to the audience, but we have to give the audience what they want. If you're not putting a product out that people want to buy, then you're obsolete.
MW: Would you ever consider writing a musical?
REINEKE: I would love to write a musical. I'm a huge fan of the theater. Writing a musical takes a nice team of people to work with, because I'm no lyricist. You need a great book writer, a great storyteller. I'd love to be the composer on a musical. Somewhere down the road, I'm hoping I get the chance to do it. It's very hard to do, and to get the pacing right and all of that. But it's certainly something I'd love to do. Some days I think, God, it would be easy – because I've seen some real crap – that I think, oh my God, it's not that hard.
MW: Successful crap.
REINEKE: Yeah, successful crap. And I think, oh man, I can do that. But then there are other things that are just genius and you think, boy, they just got that right.
MW: In 10 years' time, in your ideal world, do you see yourself doing the same thing – leading three different orchestras?
REINEKE: Probably. It's really hard to say, because a lot of people have said to me, "You've made it to the top. What are you going to do now?" And I'm thinking, "Top? There is no top." You just keep doing what you do, and you keep trying to make it better. And I could not have guessed five years ago that I would be doing exactly what I'm doing now, with whom I'm working. You can't set a course to predict that. You can have dreams and aspirations, [but] basically the way I've always taken it, and what I'm doing now, is just to continue to be as creative and as good as possible. And see where that leads. It always leads to something else, and I'm ready to just follow that path.
MW: What do you see for your personal life in a decade? Any plans to have kids?
REINEKE: I think we're going to try and have a dog first.
MW: You don't have a dog yet?
REINEKE: We don't have a dog yet, but we're thinking of getting a dog. My schedule's never allowed for me to even have a pet, for a long time. I grew up with animals. And it's been breaking my heart not having any pets. Raising a family, of course, that's a huge responsibility. I don't know that that'll ever happen, but we'll see. Never say never.
Steven Reineke conducts the NSO Pops with Megan Hilty and Aaron Lazar Friday, Nov. 23, at 1:30 and 8 p.m., and Saturday, Nov. 24, at 8 p.m., at the Kennedy Center Concert Hall. Tickets are $20 to $85. Call 202-467-4600 or visit kennedy-center.org.