The fight against "ex-gay" conversion therapy continued in New Jersey today, where former patients of a group that promised to convert people from gay to straight filed a lawsuit in the Superior Court of New Jersey.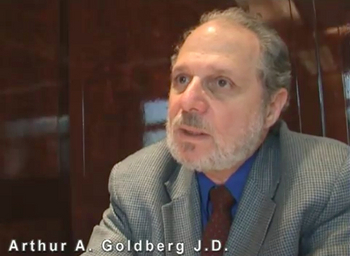 Four young men and two of their parents filed the lawsuit against the founder of Jews Offering New Alternatives for Healing (JONAH), Arthur Goldberg, and a counselor for the group, Alan Downing, alleging that the group violated New Jersey's Consumer Fraud Act by claiming that they could "cure" gay people of their homosexuality.
Represented by the Southern Poverty Law Center, Cleary Gottlieb Steen & Hamilton, and Lite DePalma Greenberg, the plaintiffs' lawsuit is the first to sue a practitioner of conversion therapy on the grounds of providing fraudulent services.
The complaint alleges that, among other things, the plaintiffs were lured into believing "reparative therapy" could make them straight, spending thousands of dollars in the process while enduring abusive practices at the hands of Goldberg and Downing. Such practices have long been discredited by therapists as amounting to abuse.
Specifically, the complaint says that the plaintiffs were instructed to remove their clothing during individual and group therapy sessions. They were also instructed to cuddle with other same-sex patients and counselors as well as go to gyms and bath houses in order to be nude around father figures. Subjected to verbal abuse that included being called names like "faggots" and "homos" during mock locker room scenarios, some were also told to beat effigies of their mothers with tennis rackets.
According to Benjamin Unger, one of the plantiffs in the case, counselors convinced him his mother was responsible for making him gay.
"During my time with JONAH, they told me constantly that my mom had made me gay," Unger said in a statement. "I was so convinced that I refused to have any contact with her for several months, which caused a great deal of damage to our relationship."
"JONAH profits off of shameful and dangerous attempts to fix something that isn't broken," said Christine Sun, SPLC deputy legal director, in a statement. "Despite the consensus of mainstream professional organizations that conversion therapy doesn't work, this racket continues to scam vulnerable gay men and lesbians out of thousands of dollars and inflicts significant harm on them."
According to SPLC, JONAH was originally known as Jews Offering New Alternatives for Homosexuality. Its founder, Arthur Goldberg, is a former Wall Street executive and attorney and was disbarred after being convicted of three counts of mail fraud and one count of conspiracy to defraud the federal government. After being released from prison, he founded JONAH in 1999.
JONAH's website describes the organization as a "non-profit international organization dedicated to educating the world-wide Jewish community about the social, cultural and emotional factors which lead to same-sex attractions." Moreover, they claim that through "psychological and spiritual counseling, peer support, and self-empowerment, JONAH seeks to reunify families, to heal the wounds surrounding homosexuality, and to provide hope."
The New York Times reports that neither Goldberg nor Downing are subject to censure from medicial associations because they are not licensed therapists.
The lawsuit against JONAH comes after California became the first state in the nation to ban conversion therapy for youth at the hands of licensed therapists in September. The California law is facing legal challenges from conservative groups, including the Liberty Counsel. In October, SPLC also filed a complaint with the Illinois Department of Financial and Professional Regulation against Paul McNulty, a state licensed clinical social worker who practices reparative therapy.
READ the full complaint here: