Michael gets around. No, not in the fun way that comes to mind. Instead, this 28-year-old has found himself bouncing all over the Northeast – New Hampshire, Massachusetts, Pennsylvania, D.C., Rhode Island – first as a kid, and now in pursuit of his business and finance degree. It's that pursuit that, most recently, took him out of D.C. and to Philadelphia, where he was able to get in-state tuition rates. But he's counting the months till he can make a Washington return. "I'm just waiting to finish school," promises the Northeast native. When pragmatic Michael's in town, look for him at JR.'s or in lounges where the volume is low enough for conversation. "As I get older, it's more the bar atmosphere, to talk and interact more. And I don't like to stay up too late."
What's on your nightstand?
A couple candles.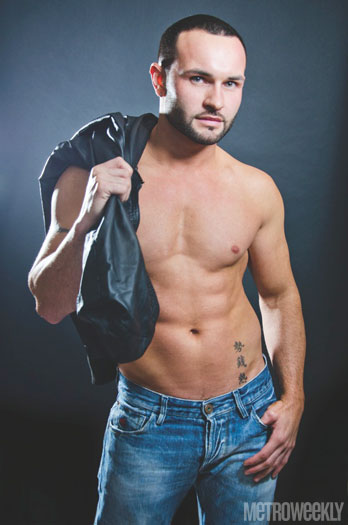 Coverboy: Michael
(Photo by Julian Vankim)
Are they scented?
I don't know. I never smelled 'em. They're different colors, though.
What's in your nightstand drawer?
An Xbox remote.
And the condoms and lube?
Don't worry, they're there. But I'm not giving you a specific location.
What are your television favorites?
The New Normal. I love that show. X Factor, American Horror Story, Walking Dead.
What was your favorite cartoon when you were a kid?
Looney Tunes.
What superhero would you be?
Superman. He's handsome and strong.
What's your greatest fear?
Regret.