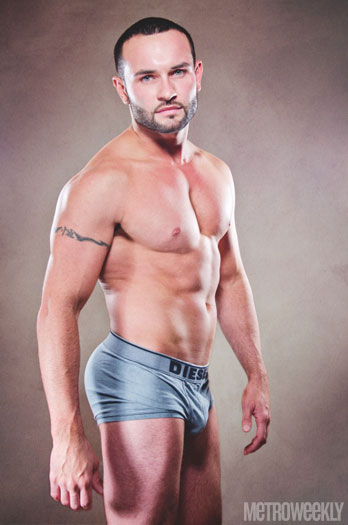 Coverboy: Michael
(Photo by Julian Vankim)
Who was your first celebrity crush?
Brad Pitt.
What do you think of his recent donation to HRC?
It's awesome, a step in the right direction.
What's your biggest turn-on?
A great smile.
What's your biggest turn-off?
Poor hygiene and a bad attitude.
What's something you've always wanted to do but haven't yet tried?
Skydive. But I'm afraid of heights.
What's something you've tried that you never want to do again?
Some hot sauce my neighbor had. I was gagging. I thought I was going to die.
Boxers, briefs or other?
I'm really into underwear. It's a big turn on, all kinds. Just nothing girly – no lace, no thongs.
What's your favorite website?
Finance websites. All of 'em. I enjoy spreadsheets.
What's the most unusual place you've had sex?
In my house. Sex is more enjoyable without facing jail time. If I'm worried, it's not going to be good.
What position do you play in the big baseball game of life?
Depends on who's playing.