If you're looking for a mediocre night at the movie theater, look no further than Andrew Dominik's Killing Them Softly. It has everything: a retread of a worn-out narrative, clumsily layered over toothless political criticism, and splashed with the kind of gratuitous violence that manages to be both stylized and abhorrent. Yes, this is yet another blue-collar crime drama — completely with the requisite gritty palette, tasteless humor, and regionally specific accents that sound as if they were yanked out of a bad comedy routine.
The story — as much as you can call it one — seems to exist solely to encourage Dominik's bland argument that organized crime is a capitalist venture. It'd be an admirable message, if only it hadn't been thoroughly beaten to death by the many, many other films that make the exact same point. In this iteration, a two-bit criminal (Scoot McNairy) and his n'er-do-well buddy (Ben Mendelsohn) knock over a gangster's protected card game at the behest of a rival (Vincent Curatola). The mobster fat cats hire a hit man (Brad Pitt) to track the duo down, all while his handler (the wonderful Richard Jenkins) acts as a middleman to ensure the dirty deeds are done properly.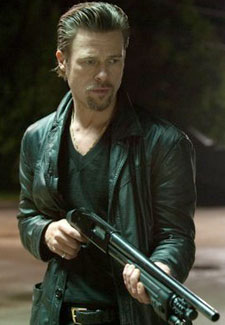 Killing Them Softly: Brad Pitt
Wait a minute…. It sounds like these mobsters run their business like Wall Street executives do! Whodathunk it?
To his credit, Dominik knows how to frame a shot and turn a witty phrase. (The handful of scenes with Pitt and Jenkins are a relief and a delight, even if they encourage that tired cliché of mobsters and capitalism.) Killing Them Softly has an impressive knack for dialogue, especially when you consider just how small the movie manages to be. It almost entirely consists of various one-on-one conversations, sprinkled with enough exposition to illuminate an often-murky narrative. And yet, it's wildly misguided, serious to a fault, and seemingly blind to its meager message. At 97 minutes it still, somehow, seems too long.
You want to talk about the plight of capitalism? You want to say something about the Wall Street bailouts and the cowardice of politicians who kowtowed to the very same people who dropped a mortgage-backed bomb onto the economy? That's fine. But Dominik tries to make these points merely by cutting bailout-era speeches by George W. Bush and Barack Obama into every available radio and television a character encounters. (As fate would have it, these people are lucky enough to live in the most politically astute—yet blighted—neighborhood in America.) Killing Them Softly presents this obvious message with all the subtlety of a sledgehammer. And, naturally, its meaningful revelation is nothing we haven't heard before.
KILLING THEM SOFTLY

Starring Brad Pitt, Scoot McNairy, Ray Liotta
Rated R
97 minutes
Opens Friday
Area theaters
That's the problem with Killing Them Softly and its highbrow-mob-movie ilk. Under the protection of stylized filmmaking, even the most common of argument aims to be revolutionary. Make no mistake: Dominik is a talented filmmaker. The Assassination of Jesse James by the Coward Robert Ford proved his chops. But to drone on, again and again and again, about the ruthless nature of crime and business isn't just tiring. It's obvious. Tell us something we don't already know.
Killing Them Softly is not The Sopranos. It's just another undistinguished mobster flick. It's a lame attempt to look cool and pass down ideological judgments without a hint of substance or function. It's the celluloid equivalent of Brad Pitt.
At least it got the casting right.