Funny, joyful and generally festive, Arena Stage's My Fair Lady is a pleaser. Grey heads will bob nostalgically, children will delight, and lovers of the genre will hear the clever words and catchy melodies of Lerner and Loewe delivered ably and aptly. If there is a slight edge in the so-called "steampunk" costuming and a certain intensity in protégé Eliza Doolittle and mentor Mr. Higgins, it is there more for those intent on looking than those intent on enjoying. In other words, though director Molly Smith has thought hard on her subject, the interpretive touches shadow – versus derail – the juggernaut of tradition.
And this is no bad thing. There aren't many who want their iconic musicals messed with.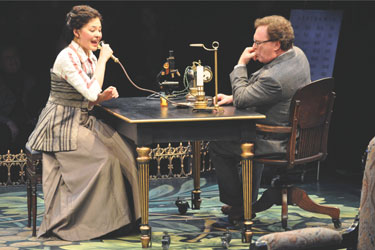 My Fair Lady
(Photo by Suzanne Blue Star Boy)
Carrying the production as any Higgins must, Benedict Campbell delivers his grouchily irrepressible man with excellent comic timing and an authenticity that starts with his mannerisms and ends with his accent. More a talker than a singer, he nevertheless carries a convincing, expressive tune that fits nicely the professorial persona. On a subtler level, Campbell also manages to walk a fine line: Though this is a Higgins expressing his contempt and objectification of Eliza with a startling acid, Campbell maintains a kind of innocent energy throughout. Thus, though Smith may draw notice to the class and gender-based bitterness that has endured into the 21st century, Campbell rescues these moments with the powerful salve of his bumptiously delivered, self-absorbed humor. No one is out to ruin the party.
Still, it is a balancing act, and the one casualty in the seesaw is Higgins's chemistry, or lack thereof, with Eliza. Even at his most engaged, Higgins never gets beyond avuncular; not when he sees Eliza in the temperamental throes of trying to learn, not when she appears in a bedazzling ball gown, and certainly not in the final scenes when some kind of love supposedly enters the equation. Throw in the fervor of his contempt for her class and gender and it all seems even more improbable. And yet it's hard to blame Campbell. There just isn't room for subtler sparks to fly.
As the recalcitrant Eliza, Manna Nichols sings with precise sweetness, ear-pleasingly sure in tone and texture. A confident presence, she commands the stage, dances with flair and, when the moment is called for, is as easily rowdy as she is quietly expressive. And she undoubtedly looks the part (especially with Smith's engaging choice to make her and her father Asian-British).
But – and is a rather big "but" for a musical that is so utterly and completely centered on language – she cannot carry the accents. Her cockney is cockeyed and her proper British English is bungled. It is a major distraction and it hinders the transformation at the heart of the play. None of it matters when she breaks into song, but there just aren't enough of them to diminish the problem.