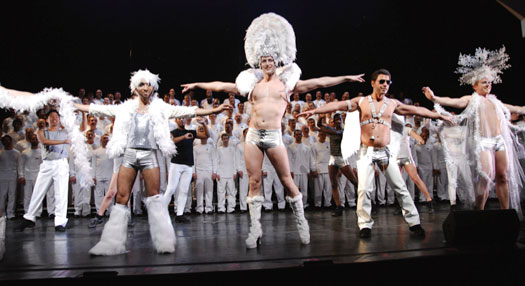 GMCW: Born This Way
(Photo by Ward Morrison)
"Mrs. Claus is going to be very classy, with maybe just a hint of Karen Walker," says Christopher Harris, who will don drag and put on padding – but "not a fat suit" – to play Santa's wife for a number in the Gay Men's Chorus of Washington's popular annual holiday show.
But Mrs. Claus won't be a full-on boozehound a la the Will and Grace character. "Just a hint – it's not going to be the whole bottle, as it were," Harris jokes. The reason for Mrs. Claus's tipsy demeanor? "Santa has been gone a very long time, and she misses him a lot." Accompanied by a troupe of sexy elves, Harris will sing "Santa Won't You Please Come Back," beseeching her man to return to the North Pole months after Christmas.
Harris says "there's something for everybody" in "Winter Nights," from standard choral and spiritual tunes to a Rockettes-inspired number to even an elaborate Bollywood piece. The title comes from a tender love song composed for GMCW by local songwriters-in-love Tom Nichols and Dan Chadburn. The 36-year-old Harris joined the chorus in 2010 after nearly nine years with the Air Force and its official chorus, the Singing Sergeants. "That was under the dark days of Don't Ask, Don't Tell, so I couldn't join the [GMCW], as much as I wanted to," he says.
Harris grew up in a religiously conservative family in the Hampton Roads area of southeastern Virginia, but has called D.C. home for a decade. And the chorus has quickly become "a wonderful extended family." His work with GMCW has also inspired his pursuit of a stage career with local theaters, including the Little Theatre of Alexandria, where he'll perform in his third production this January. When asked if, per the show's title, he'll be giving The Full Monty, Harris laughs, "If that's what the director tells us, yes."
Perhaps a hint of Karen Walker will be helpful in that role, too.
The Gay Men's Chorus performs Friday, Nov. 30, at 8 p.m., and Saturday, Dec. 1, at 3 p.m. and 8 p.m. at Lisner Auditorium, The George Washington University, 730 21st St. NW. Tickets are $25 to $55. Call 202-293-1548 or visit lisner.org or gmcw.org.