Michael Kaplan is on the move, spending Thanksgiving on the road, driving cross-country with his partner. But it's not a joyride. Kaplan is on a mission. He needs to be in D.C. ready to work Dec. 1, World AIDS Day.
"It's a coincidence in that they said, 'When can you start?' and I said, 'I have to wrap up and I need time to move across the country and Dec. 1 would be best for me," says Kaplan. "But it's still significant and meaningful in that it is World AIDS Day. Having done this work in HIV for close to two decades, it's been a significant day in my life. I like that I start this new chapter on that day. It gives focus."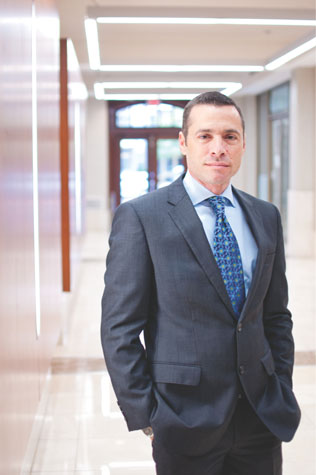 Michael Kaplan
Todd Franson
With his new job guided by one formidable goal, "ending the HIV/AIDS epidemic in America," focus is important. But that's just one tool Kaplan, 44, brings to D.C.-based AIDS United, where he'll serve as president and CEO.
In his last post, Kaplan was the executive director of Portland, Ore.'s Cascade AIDS Project (CAP), making a name for himself during his five years there by guiding the agency through the fiscal storm of the recession, fighting HIV/AIDS-related stigma, and building bridges. It's an impressive skill set. That experience, as well as his years fighting HIV/AIDS in Africa and Latin America with the Academy for Educational Development (now FHI 360), supports Kaplan when he says that AIDS United's goal of ending the HIV/AIDS epidemic in America is realistic.
"Early treatment of a positive person can stop sexual transmission by 96 percent," he points out. "That's huge. If we could get everyone in the U.S. to know their status tomorrow, and everyone who's positive and warrants it onto early treatment, we could go from 50,000 new infections a year in this country to less than 5,000 a year. Add to that the Affordable Care Act and – I've said this often in the last two years – we can achieve this. It's an unparalleled opportunity in the U.S."
As Kaplan talks about that elusive light at the end of the tunnel, his passion comes through. And it's that passion that is likely the single-most valuable quality he brings to AIDS United. It's a quality that has imbued his "you betcha" Minnesota roots with a drive and outspokenness needed to fight the big fights. It's a passion that guided Kaplan though coming out and immediately putting himself on the front line for LGBT youth as founding executive director of District 202, a queer youth center, in Minneapolis. It was 1992, and a coming-out of another kind was soon to follow.
"When I came out gay, I sort of told the world and everyone at once," Kaplan recalls. "I told my all friends and family, did a little editorial in the university paper. From that point, I was out and doing queer organizing. When I tested positive, it was much the same. Probably within a couple weeks to a month I had shared my status with most people. I think the hardest was sharing it with my parents. Disclosing being HIV-positive was harder than disclosing being queer to the parents."